17 Reasons We Love Maui Right Now
It's an easy island to love, especially now.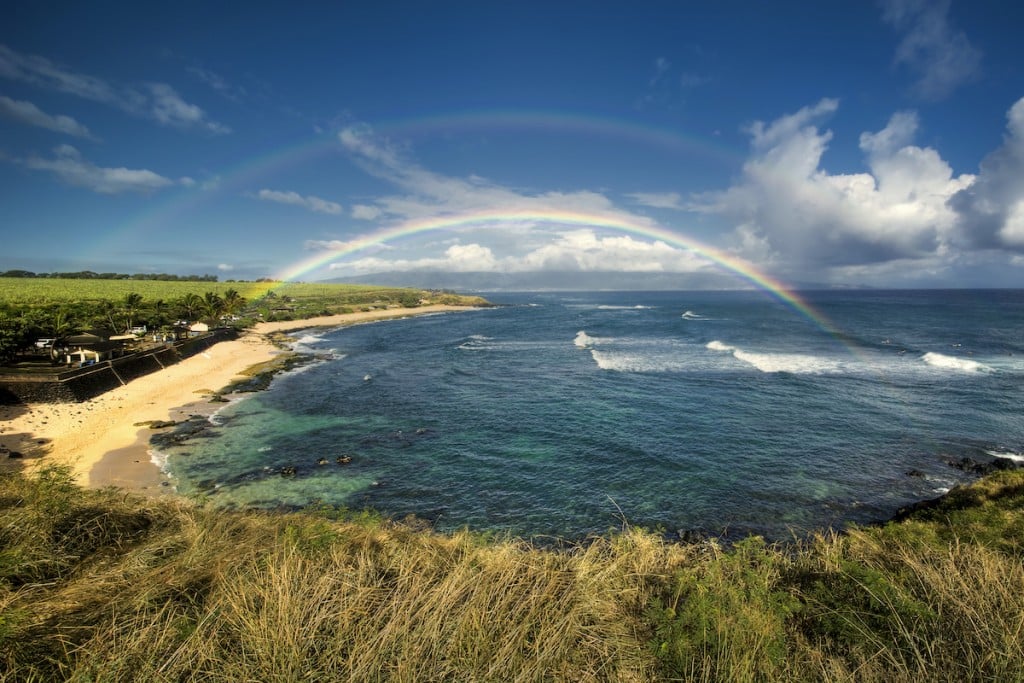 Maui has long been the favorite of visitors to Hawaiʻi, beloved for its gorgeous beaches, stunning vistas and charming towns. And right now, as the Islands welcome more and more visitors, there are dozens of new (and perpetual) reasons to visit the Valley Isle.
1. Haleakalā National Park
Most of the 30,000-acre Haleakalā National Park is open, including sunrise and sunset viewings from the top of the 10,023-foot dormant volcano. (You have to make online reservations.) All of the trails in the summit area are open, too, including Haleakalā Crater hiking trails and wilderness areas, Keoneheʻeheʻe (Sliding Sands) Trail and Halemau'u Trail for day-use hiking only.
Spend the day (or two) exploring the otherworldly landscapes here, from Mars-like red deserts to lush waterfalls and streams in the Kīpahulu District (near Hāna). Maybe you can catch a glimpse of one of Maui's endangered species like the blooming ʻāhinahina (silversword) or nēnē (Hawaiian goose).
2. Waterfalls
The 52-mile-long Road to Hāna is littered with waterfalls, which makes the windy road—620 curves!—a manageable day trip. Visit the popular Twin Falls, Three Bears Waterfall (aka Upper Waikani Falls), Wailua Falls, Waimoku Falls and ʻOheʻo Gulch (Seven Sacred Pools). And that's just along Hāna Highway!
3. Upcountry Farmers Market
View this post on Instagram
Located at the Kula Malu Town Center in rural Pukalani, the Upcountry Farmers Market has been around for more than 30 years and is a favorite stop for residents and visitors alike. Find fresh, locally grown produce like coconuts, macadamia nuts, honey, coffee and tropical flowers. There are dozens of food vendors, too, serving everything from Thai food to vegan desserts to fresh breads. Open from 7 to 11 a.m. Saturdays. TO 11AM
4. Keawalaʻi Congregational Church
Founded in 1832, this historic beachside church in Mākena was originally built from pili grass and burnt coral rock. Visit or come for Sunday service at 10 a.m. The altar alone—made of native ʻiliahi, ʻulu, milo and koa woods—is worth the stop.
5. Kiwikiu
View this post on Instagram
The saffron Maui parrotbill is endemic to Maui; meaning it exists nowhere else on Earth. The name is combination of the Hawaiian words kiwi (curved, referring to its beak) and kiu (the cold, brisk breeze that blows across the forests above Makawao, where this bird lives). It's critically endangered.
6. Fukushima Store Hot Dogs
Fukushima Store in Haʻikū has the best hot dogs around, cheap and delicious ($1.25). It's a Redondo red dog buried in ketchup, mustard, chopped onions, a pickle spear and mayo-relish sauce.
7. Aliʻi Kula Lavender
View this post on Instagram
The stunning 13.5-acre Aliʻi Kula Lavender farm in Upcountry Maui reopened recently on Fridays, Saturdays and Sundays only. While it's not offering guided tours right now, the farm is open to those who want to meander the garden filled with fragrant lavender—a summer bloomer—olive trees, hydrangea and protea. Its famous lavender scones—a must!—are served to-go.
8. Ululani's Hawaiian Shave Ice
View this post on Instagram
The winner of our 2021 Readers' Choice Awards, Ulalani's Hawaiian Shave Ice opened its first brick-and-mortar shop in Lahaina in 2008. Today, it boasts seven locations across Maui. What sets its shave ice apart from others? Ulalani's specialty syrups, ultra-pure ice and gourmet add-ons, including toasted coconut, vegan haupia cream, li hing mui powder and fresh mochi (Japanese rice cake). You can even get fresh lilikoʻi (passion fruit), too.
9. Goat Yoga
Who wouldn't want to do yoga with a bunch of adorable Nigerian Dwarf goats? Maui Goat Yoga offers 90-minute yoga classes at its picturesque farm on the slopes of Haleakalā with panoramic views of the Maui coastline—and you're surrounded by goats. It doesn't get better than that. Classes are limited and reservations are now required. (Meaning no walk-ins.) From April through October, the farm offers sunset yoga sessions with live music. And yes, goats.
10. Waiʻānapanapa State Park
The popular Waiʻānapanapa State Park lives up to its reputation: Its striking black sands, bright blue waters and verdant jungles can't be wholly captured in photos. The park is located off the Road to Hāna, around Mile Marker 32. In addition to the jet-black sand beach, you can walk through a hala (pandanus or screw pine) forest, see heiau (religious temple) and sea stacks, venture into a freshwater cave and maybe catch a glimpse at nesting seabirds. Reservations are now required for visitors.
11. Kuʻia Estate Chocolate
Kapalua resident and former biotech scientist Gunars Valkirs is a chocolate purist. So when he opened Maui Kuʻia Estate Chocolate in 2013 with 20 acres of cacao trees in Lahaina, he wanted to make high-quality chocolate from high-quality ingredients. He harvested his first crop of cacao in 2018 and, in the process, created Maui's first farm-to-bar chocolate experience. Flavors include Maui coffee, blood orange, peppermint and lemongrass. The company now offers tasting tours and guide farm tours. Kuʻia also supports various Hawaiʻi nonprofits by donating proceeds from the sale of select items.
12. Sheldon Simeon
This Hilo-born chef and two-time "Top Chef" finalist runs Tin Roof Maui, one of the island's most beloved takeout spots. He also has a new cookbook out, "Cook Real Hawaiʻi" ($35, Clarkson Potter/Penguin Random House), which features island favorites like Portuguese bean soup, chicken hekka, pork adobo, garlic shrimp and Spam musubi.
13. Banana Bread
View this post on Instagram
You can't drive the Road to Hāna without stopping at one of the many roadside stands selling homemade banana bread. One of our favorites is Halfway to Hāna at Mile Marker 17, one of the original stands along the highway. In addition to traditional banana bread, you can get loaves with chocolate chips, coconut, macadamia nuts and mango. It sells shave ice, coffee, sandwiches and other items you may have forgotten on your drive, including insect repellant, car chargers and motion sickness meds.
14. Mākena Beach State Park
If you're going to visit any beach on Maui, it should be Mākena Beach, one of the island's largest beaches. (That's why it's nicknamed Big Beach.) Tucked between two lava outcroppings, this beach is protected from the tradewinds with views of Molokini and Kahoʻolawe. It's not uncommon to see dolphins here.
15. Molokini
This crescent-shaped islet boasts a pristine reef teeming with tropical fish and coral. It's a protected marine conservation area and only accessible by a certified tour operator. And snorkeling here is exceptional.
Tours have resumed to Molokini and we like the one offered by PacWhale Eco-Adventures. Its most popular snorkeling tour to Molokini spans five hours and is led by experts. You visit a bonus snorkel site—Turtle Arches—too.
16. ʻĪao Valley State Monument
Walk through the 4,000-acre ʻĪao Valley State Park in Central Maui and see what makes this one of the island's most popular attractions. Gaze at the 1,200-foot ʻĪao Needle, the iconic rock outcropping that overlooks ʻĪao Stream. Walk along the well-paved path leading to a viewing point of the needle and valley. Reservations are now required for visitors.
17. Pukalani Superette
View this post on Instagram
A favorite stop for locals, this locally owned mom-and-pop shop—often called "Puk Sup"—has been serving Upcountry Maui for more than 60 years. In addition to everyday groceries, you can pick up ʻahi poke and bento lunches—perfect for the beach. Sometimes it serves fresh malasadas, too.