22 Reasons Why We Love Waikīkī Right Now
This bustling Oʻahu city has way more to offer than sunny beaches.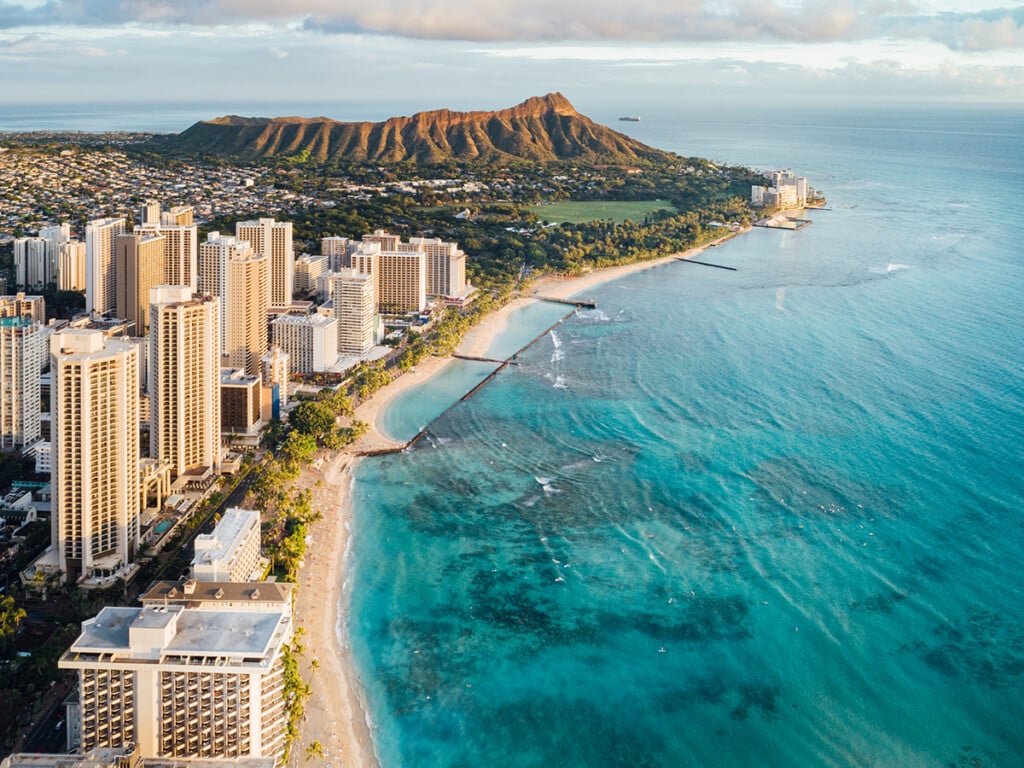 You haven't been to Oʻahu until you've been to Waikīkī, the bustling, beachfront neighborhood on the island's sunny south shore. It's a mix of modern resorts and historic landmarks with a perfect view of Lēʻahi (aka Diamond Head). There are high-end shops and dive bars, upscale restaurants and hole-in-the-wall eateries—and you don't need a rental car to see and do it all. And right now we're loving Waikīkī even more. Here's why.
1. The beaches
It's no secret the beaches of Waikīkī are some of the best on Oʻahu. The 2-mile stretch here is almost always bright and warm, with aquamarine waters and golden sands. Kūhiō Beach is one of the only places in the world where you can ride waves on an outrigger canoe nearly every day of the year. Learn to surf from one of the legendary Waikīkī beach boys. Or just sip a cocktail at one of the many beachside restaurants and bars.
2. Kapiʻolani Park
You can't miss this 300-acre park on the eastern end of Waikīkī. Named after Queen Kapiʻolani, the queen consort of King David Kalākaua, Kapiʻolani Park is a gathering place for residents and visitors alike. On any given day, you'll see people running, walking, playing soccer and tennis, and throwing Frisbees on these former polo fields. It's also home to the Honolulu Zoo and the Waikīkī Shell, a popular spot for concerts.
3. Breakfast spots
Get up early—because there are tons of great places for breakfast in Waikīkī. From ube colada pancakes and loco moco from the local-fave Forty Niner to açaí bowls and bullet coffee from the Sunrise Shack, there's something for every craving.
4. It's a shopping mecca
Waikīkī is a shopper's dream, with high-end shops like Christian Louboutin and Balenciaga in the International Market Place to cute boutiques like 88 Tees, Mahina and CocoNēnē. The ubiquitous ABC Stores, selling everything you need on vacation, from Spam musubi to beach towels to that toothbrush you forgot to pack.
5. So much history
Waikīkī has long been a popular retreat—for Hawaiian royalty in the 1800s and for visitors today. Hotels began opening in the 1880s, as the Islands lured visitors—then, by boat—to the exotic locale. One of the best ways to learn more about this historically significant area is by following the Waikīkī Historic Trail, a 2-mile self-guided walking tour marked by interpretative signs with descriptions and archival photos of historic sites. Learn about Waikīkī's largest fishpond, a royal grove of nearly 10,000 coconut trees, and the Healing Stones of Kapaemahu.
6. Free cultural classes
Many hotels and shopping centers in Waikīkī—including the Royal Hawaiian Center—offer free cultural classes, like lei-making, ʻukulele-playing and hula, taught by local cultural practitioners and experts. This is a great way to learn about the Native Hawaiian culture while on vacation.
7. Fireworks on Friday nights
After a two-year hiatus, Waikīkī's spectacular Friday night firework show returned last year. The popular—and free!—fireworks show, presented by the Hilton Hawaiian Village Waikīkī Beach Resort, has lit up Waikīkī's night sky nearly every week since 1988. It was paused in March 2020 due to COVID-19 pandemic restrictions. The show begins at 8 p.m. and can be seen throughout Waikīkī. A great spot to watch (and picnic) is the lagoon fronting the hotel.
8. It's got Lawson Stations
The first Lawson Station in the U.S.—the chain is all over Japan—opened in Waikīkī, and both locations (one in the Sheraton Waikīkī and another outside the Moana Surfrider) are worth a visit. Lawson offers slightly different items than other convenience stores, including its famous onigiri (rice balls), Japanese snacks and the popular Dole Whip.
9. Mai tais at Duke's Waikīkī
Dine at the iconic Duke's Waikīkī, located so close the beach you'll get sand in your slippers. While all of its cocktails are fun and Hawaiʻi-inspired, you gotta try its signature mai tai ($16), with two types of rum and fresh Hawaiian juices. It's a visitor favorite, for sure. (The Hula Pie is a must, too.)
10. Biki
You don't need a rental car if you plan to stay and play in Waikīkī. But if you want to get a little further outside the neighborhood, hop on a Biki bike. Biki is Honolulu's large-scale bikeshare system, boasting 1,300 bikes at more than 130 self-service Biki Stops throughout Downtown Honolulu and Waikīkī. And it's affordable: $4.50 for each 30 minutes of use, or opt for a $25 pre-paid bank of 300 minutes to use whenever within a year.
11. Afternoon tea at the Moana Surfrider
The historic veranda at the Moana Surfrider, a Westin Resort & Spa, provides a stunning backdrop for the hotel's popular afternoon tea service. Served on Fridays, Saturdays and Sundays only, the service at the "First Lady of Waikīkī" combines the hotel's classic teas with savory and sweet selections like curry chicken salad croissants and orange-blueberry scones.
12. Riding an outrigger canoe
There's nothing like surfing the rolling waves of Waikīkī in an outrigger canoe. Waikīkī Beach Services offers a surfing canoe experience great for anyone, kids included. This is one of the only places in the world where you can do this—so don't skip the chance.
13. Doughnuts
There are several places in Waikīkī where you can pick up a doughnut—or a dozen. Our favorites include Holey Grail Donuts, a Kauaʻi-based chain that specializes in taro doughnuts fried in coconut oil; and Donut King Hawaiʻi, which makes the best maple-bacon yeast doughnuts.
14. Waikīkī Trolley
Need to go beyond Waikīkī? Get an unlimited day pass (between $5 and $55 per person) for the Waikīkī Trolley. Stops include Ala Moana Center, Honolulu Museum of Art, Chinatown, Sea Life Park and even Leonard's Bakery for malasadas.
15. Waikīkī Natatorium War Memorial
Right next to Kaimana Beach is the historic Waikīkī Natatorium War Memorial, built in 1927 in the form of a public saltwater swimming pool and then closed in 1979 due to safety concerns. It was added to the National Register of Historic Places listings in Oʻahu in 1980. It's a gorgeous frame for Waikīkī's world-famous sunsets.
16. The Legacy of Duke Kahanamoku
Duke Kahanamoku was a five-time Olympian gold medalist in swimming who popularized the sport of surfing around the world. He grew up in Waikīkī, the ocean his playground. On Kūhiō Beach there's a bronze statue of this Native Hawaiian waterman, welcoming visitors to Waikīkī. Every August Duke's Oceanfest, a weeklong water sports festival, celebrates the spirit and legacy of Kahanamoku.
17. Two neighborhood breweries
The local craft beer scene in Hawaiʻi has really exploded in recent years, and Waikīkī has two local breweries worth visiting. Waikīkī Brewing Co. opened its first location—yes, in Waikīkī—in 2015; its seven-barrel brewhouse here can produce 1,100 barrels a year. And Maui Brewing Co. opened an outpost in the Outrigger Waikīkī Beachcomber Hotel in a huge space with a menu that showcases locally sourced ingredients; its bar features 36 craft and specialty beers on tap.
18. Catamaran rides
Take a hourlong sail on a catamaran in Waikīkī. The Kepoikai II Catamaran offers a couple of different sails, including a sunset cruise with cocktails and breathtaking views of Lēʻahi (aka Diamond Head) and the Waikīkī skyline. You might even see spinner dolphins and humpback whales (during the winter).
19. Lots of things to do with kids
Waikīkī is one of the most kid-friendly neighborhoods on Oʻahu. Aside from what the hotels have to offer—pools, activities, kids' menus—there's so much to do outside the resorts, from the Honolulu Zoo to the Waikīkī Aquarium, both within walking distance of each other. Older kids can take surfing lessons and go parasailing. And there's always the beach!
20. Brunch at the Hau Tree
Visitors and residents alike love this open-air, casual restaurant right on Kaimana Beach. Brunch at Hau Tree runs from 8 a.m. to 1:30 p.m. daily—reservations required—with dishes like ʻahi tataki, classic eggs Benedict, lemon ricotta pancakes and a killer avocado toast. If you're lucky you may see a Hawaiian monk seal relaxing on the beach.
21. All the festivals and parades
Waikīki is the epicenter of festivals and parades on Oʻahu, especially in the summer. This is the spot for running races—the Honolulu Marathon route goes right through here—and surfing contests, and Kalākaua Avenue hosts annual festivals like Spam Jam and the Honolulu Festival. The popular Hawaiʻi Food and Wine Festival holds events here, too.
22. Sunset at House Without a Key
There's nothing like enjoying a cocktail at sunset at the House Without a Key at the luxe Halekūlani in Waikīkī. You're sitting under a 130-year-old kiawe tree with stunning ocean views and listening to live Hawaiian music accompanied by a hula dancer. It's one of the most iconic experiences you can have in Waikīkī—or, really, anywhere in Hawaiʻi.