The Best Cheap Eats on Oʻahu in 2022
On a budget? Here's the list of winners for the best cheap eats on Oʻahu from our 2022 Readers' Choice Awards.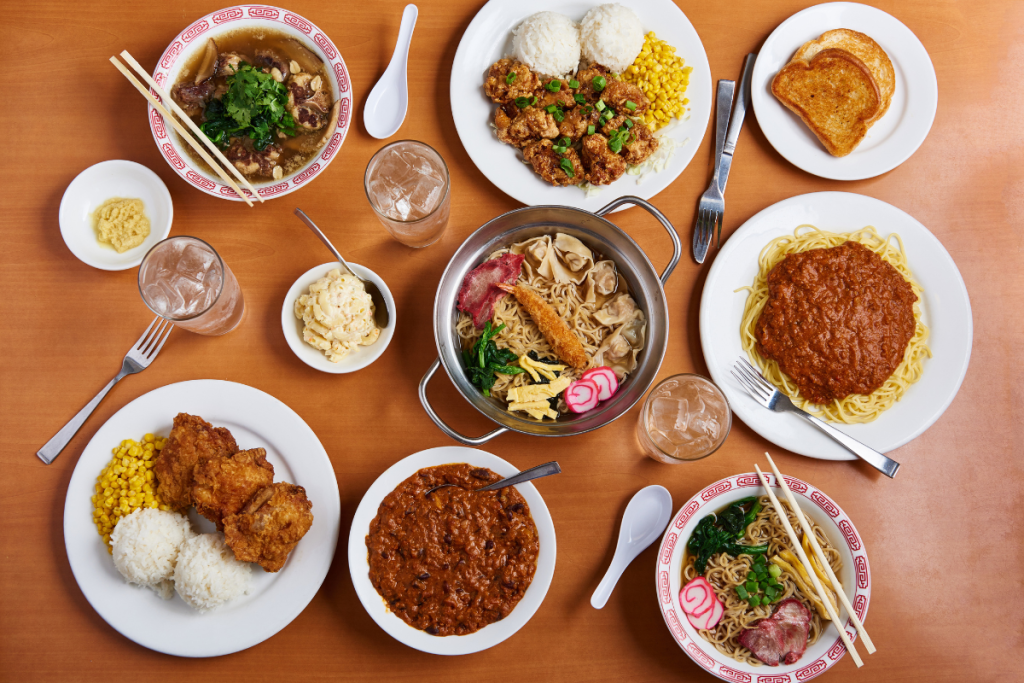 Oʻahu is home to some of the most iconic restaurant establishments in Hawai'i. As residents and visitors navigate the island, finding an affordable and delicious bite is oh-so satisfying. From hefty plate lunches to Japanese noodle dishes, here are the best cheap eats on Oʻahu, as voted by our readers.
1. Zippy
'
s
Since its opening in 1966, Zippy's has established itself as the home of local comfort food across the islands. With 24 locations scattered around Hawai'i Island, Maui, O'ahu and soon to be Las Vegas, Zippy's menu is a reflection of Hawai'i's melting pot of diverse cultures—customer favorites include its signature Zip Pac (a piece of fried chicken, a lightly breaded filet of fish, Spam and teriyaki beef served on a bed of seasoned rice), saimin (a noodle soup only found in Hawai'i) and a Korean fried chicken plate. But don't leave without trying its renowned Zippy's chili—it sells 100 tons of it each month!
Various locations, zippys.com, @zippys
2. L&L Hawaiian Barbeque
View this post on Instagram
Locals know it simply as L&L—the go-to spot for a good quality plate lunch. What started as a local chain of drive-in restaurants in 1952 is now an international chain that continues to serve classic and mouth–watering plate lunches—with white rice, macaroni salad and a piece of fish or meat. Eat like a local and try a plate of its best-selling chicken katsu or famous barbeque chicken before a long day at the beach.
Various locations, hawaiianbarbecue.com, @llhawaiianbbq
3. Helena's Hawaiian Food
View this post on Instagram
Not many restaurants have the honor of a James Beard Award, but, lucky for us, Helena's Hawaiian Food in Honolulu proves that affordable, authentic and delicious food are not mutually exclusive. Established in 1946, this family-owned business dishes out traditional Hawaiian food that is savored by visitors and residents alike. Its famous kālua pig is cooked in an imu (underground oven), which elevates this restaurant over others. For a little taste of everything, be sure to order its set menus that include Hawaiian staples like lomi salmon and pipi kaula short ribs. All of the set menus come with the iconic haupia (coconut pudding) dessert as supplies last, so be sure to get some before they run out.
1240 N. School St., Honolulu, (808) 845-8044, helenashawaiianfood.com, @helenashawaiianfoood
4. Nico
'
s Pier 38
View this post on Instagram
A standout for its food, location and atmosphere, Nico's Pier 38 has it all. Located on the water at Pier 38 in Honolulu, Nico's serves seafood straight from the ocean, guaranteeing the freshest fish for its customers. Open from breakfast to dinner, Nico's offers fresh fish all day long. Customer favorites include its freshly caught grilled 'ahi plates and its signature fish bites appetizer with lomi tomato and Sriracha aioli. During the day, the restaurant also has its own fish market that offers island favorites like spicy 'ahi poke and house-smoked marlin. There's ample outdoor seating and live music daily.
1129 N. Nimitz Highway, Honolulu, (808) 540-1377, nicospier38.com, @nicospier38
5. Marugame Udon
View this post on Instagram
Founded in Japan, Marugame Udon opened in Hawaiʻi in 2011 and has been delighting its customers with handmade udon noodles, tempura and musubis. With two locations on Oʻahu, Marugame Udon is centered around the performance of handcrafting the udon noodles as customers wait in line. Its signature dish is the Nikutama—a bowl of udon alongside marinated beef, an onsen egg (low temperature cooked egg) and BK sauce, Marugame's rich and savory broth. Everything on the menu is under $13 and includes vegan and vegetarian options as well, so there's something for everyone.
Various locations, marugameudon.com, @marugame_udon
See all of the winners of our 2022 Readers' Choice Awards in our latest issue, which you can buy here. Better yet, subscribe and get HAWAIʻI Magazine delivered to right to your mailbox.