"Hawaii Five-O" to premiere sophomore season with advance screening in Waikiki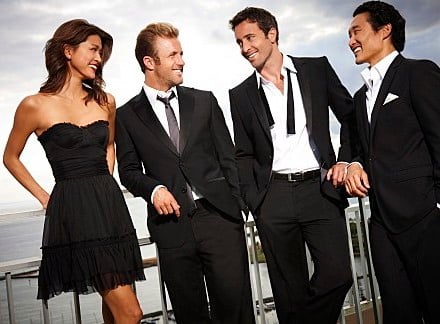 Last year, the scene looked something like this: More than 5,000 excited fans — sitting on beach towels and walking along Wakiki Beach — cheering for Hawaii Five-O cast members on a red carpet rolled out on the sand. After sunset, the buzzing crowd fell silent for the advance screening of the much-anticipated redux of the classic Hawaii-filmed CBS TV police procedural drama.

Sound like fun? If you happen to be on Oahu on Sat., Sept. 10, you are cordially invited to join Hawaii Five-O fans for a second round for red-carpet razzmatazz. The crowd will likely assemble long before sunset for the free event at Kuhio Beach Park, across street from the Honolulu Zoo.
Alex O'Loughlin and the show's other primary cast members — Scott Caan, Grace Park, and Daniel Dae Kim — are expected to attend as are newcomers Terry O'Quinn, who won an Emmy for his enigmatic John Locke on ABC's Lost, Tom Sizemore (Saving Private Ryan) and others.
The first season ended with car chases, bombs, a pregnancy, and with villain Wo Fat (Mark Dacascos) framing McGarrett in the shooting death of the governor (Jean Smart). The Five-O team appeared to be disbanded. But is the team really done for? Fans will be watching for follow-ups to that cliffhanger and others during the Waikiki screening.
If you cannot get to the beach, you can catch the CBS premiere on the tube on Mon., Sept. 19.
Oh, and filming for the sophomore season is still under way on Oahu. Just last week, from HAWAII Magazines offices, we could see cameras, actors (Park and William Baldwin) and Hawaii Five-O action on the streets of downtown Honolulu. Also, we recently spotted an early morning camera crew setting up shots in the damp residential neighborhood tucked into leafy Manoa Valley.