Native Plants You Should Know on Your Next Trip To Hawaiʻi
The Islands are home to dozens of trees, shrubs and plants found nowhere else in the world.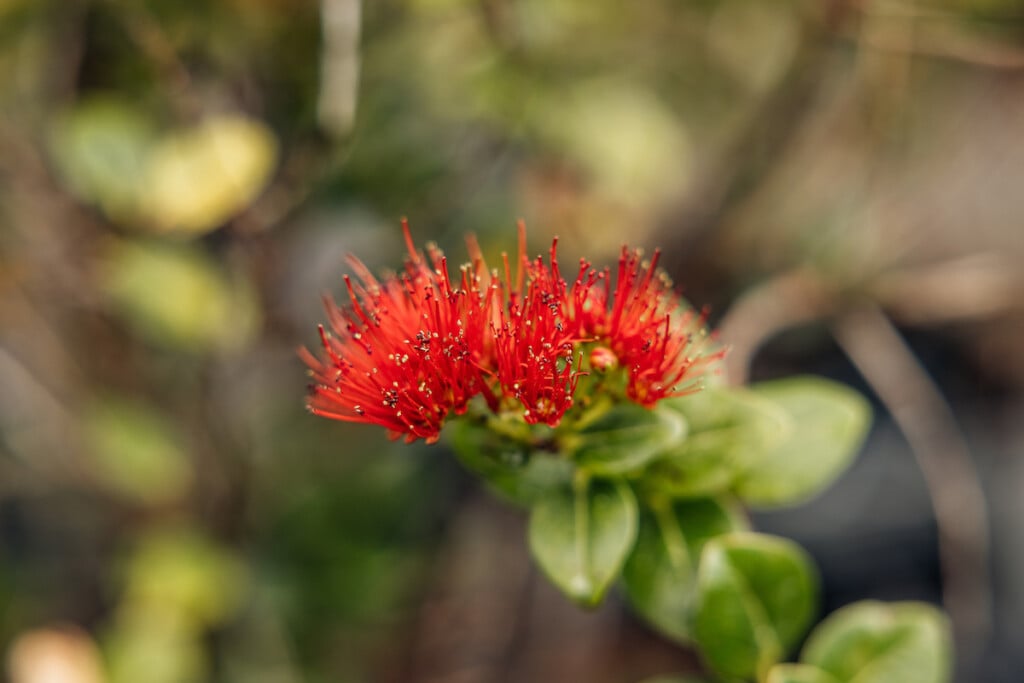 Most visitors to Hawaiʻi know about Hawaiʻi's endangered and protected animals, from Hawaiian monk seals to palila (finch-billed Hawaiian honeycreeper) to the colorful humuhumunukunukuapuaʻa (reef triggerfish).
But few know about Hawaiʻi's unique native, endemic and indigenous plants. According to the Native Plants Hawaiʻi Project, about 90% of the Islands' native plants are found nowhere else in the world and are some of the most endangered.
Hopefully that will change.
April is National Native Plant Month, an initiative co-sponsored by U.S. Senators Mazie Hirono (D-Hawaiʻi) and Mike Braun (R-Indiana) with the goal of raising awareness of the importance of native plants to environmental conservation and restoration.
"There are thousands of native plant species in the U.S. and Hawaiʻi is home to over 40% of our country's threatened and endangered plant species," said Hirono in a news release. "In Hawaiʻi, native plants are crucial to the islands' history, culture and environment, which is why our communities prioritize the preservation of our unique biodiversity."
There are community groups and nonprofits working to restore habitats and save native plant populations—and many need volunteers, even ones on vacation. You can plant a legacy koa tree on Hawaiʻi Island with Hawaiian Legacy Reforestation Initiative or restore native habitats on Maui with Kipuka Olowalu.
Here's a quick look at some of Hawaiʻi's special flora—and if you see one of these on a hike or walk, don't touch, just admire.
ʻĀhinahina
You might have seen the delicate silversword, called ʻāhinahina, on your visit to Haleakalā on Maui. This stunning endemic plant, with swordlike silver leaves jutting from its base, has been declining for centuries, eaten by feral goats and taken by visitors as souvenirs. Today, the Maui silversword (Argyroxiphium sandwicense subsp. macrocephalum) is a federally threatened species. It grows here and nowhere else in the world.
ʻŌhia Lehua
The ʻōhiʻa lehua (Metrosideros polymorpha) is endemic to six of the largest Hawaiian Islands and the most common native tree, comprising 80% of Hawaiʻi's native forests. Its flowers are a mass of stamens, ranging in colors from red to yellow to salmon. In addition to providing an important habitat for native forest birds, the ʻōhiʻa lehua is culturally significant to Native Hawaiians. The wood was traditionally used for kapa beaters, poi boards and weapons, and its leaves were used as a medicinal tea. The most current threat to this native tree is a fungal disease known as Rapid ʻŌhiʻa Death, which attacks and quickly kills the tree.
Naupaka
One of the most common native plants you'll see in Hawaiʻi is the naupaka (Scaevola taccada var. taccada)—specifically naupaka kahakai—an indigenous coastal shrub with thick, large green leaves and its signature "half-flowers." You'll find these shrubs everywhere—along roads and highways, in beach parks, in yards as landscaping. (Another variation of this shrub, naukapa kuahiwi, grows in the mountains.) Early Native Hawaiians used the flowers in lei—and still do—and for medicinal purposes. Today, naupaka is used to dye fabric, and local divers and swimmers use the leaves to rub inside their diving mask or goggles to prevent fogging.
Koa
The koa (Acacia koa) is the largest native tree species in the Hawaiian Islands, reaching heights of 115 feet. These majestic trees are endemic to Hawaiʻi and is one of the most valuable hardwoods in the world. Early Hawaiians used it to build canoes, surfboards, spear handles and ʻukulele. Most is used today to make furniture, veneer and crafts. These trees also provide important habitats for native birds, once including the aptly-named koa finch, which is now extinct.
Māmaki
Stop by a local coffee or tea shop, and you might see māmaki on the menu. Māmaki (Pipturus albidus) is a shrub (or small tree) endemic to the Islands. It's technically part of the nettle family—so not really a tea, per se—but the leaves of this plant can be used to brew an all-natural herbal beverage that has no caffeine and is often compared to green tea for its health benefits.
Maile
The fragrant leaves of the maile (Alyxia stellata) make gorgeous lei, often seen worn by grooms at weddings. (Fun fact: Most of the maile lei that's sold today come from the Cooke Islands and aren't actually the native maile from Hawaiʻi.) This endemic shrub can be found on every island except for Kahoʻolawe and Niʻihau. All parts of the plant contain a chemical called coumarin, which is the substance that gives this plant its signature fragrance.
Uluhe
Hike any ridge trail on Oʻahu—Puʻu Pia in Mānoa, ʻAiea Loop Trail in ʻAiea—and you'll likely patches of this vibrant green fern. Also known as the Old World Forked Fern, uluhe (Dicranopteris linearis) is indigenous to Hawai'i and is found on all the main Hawaiian Islands. It grows in wet forests and mesic sites, and even colonizes bare sites such as lava flows and abandoned roads.