Oahu's Diamond Head Crater Trail back to normal visiting hours as upgrades continue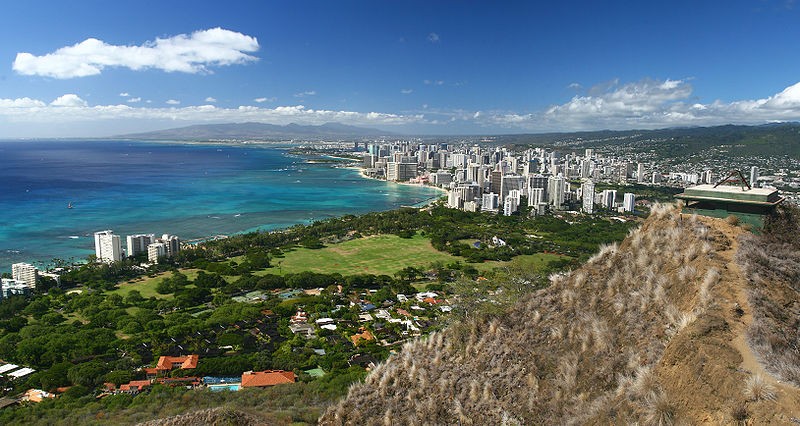 Oahu's popular Diamond Head Crater Summit Trail returned to regular visiting hours this past weekend after completion of a three-month trail repair project.
The trail is once again open to hikers from 6 a.m. to 6 p.m. daily, following the end of nearly $1 million in improvements to sections of the trail necessitated by heavy use and erosion of vertical rock faces. Repairs began in November, curbing weekday hours of operation.
But the upgrades won't stop there.
The Hawaii State Parks Division is beginning a new phase of summit-area repairs that will include the lookout area, a narrow ledge near the summit and construction of a new summit loop trail. The state doesn't anticipate any trail closures during this phase of repairs.
The 1.6-mile trail to the summit of Leahi (the Hawaiian name for Diamond Head crater) is the most popular hiking trail in Hawaii, attracting more than 1.3 million people annually—the equivalent of 2,500 visitors a day. It was built in 1906 as part of Oahu's coastal defense system, and remnants of its military history are still evident on the trail.
This moderately strenuous hike begins inside the crater, which last erupted more than 500,000 years ago. Much of the trail is a natural tuff surface and features a multitude of switchbacks traversing the steep interior slope of the crater wall. The hike includes a steep stairwell—about 100 steps—and a lighted 225-foot tunnel.
But trust us, the caloric burn is worth it once you emerge from a long-abandoned military bunker at the summit.
The view at the top is one of the best of Oahu's south shore. On clear days you can see the entire shoreline from Koko Head tuff cone near the suburb of Hawaii Kai, to the Waianae Mountains on Oahu's leeward side.
HAWAII Magazine's Facebook ohana voted the Diamond Head Crater Summit Trail its #2 favorite Hawaii scenic lookout.