The 5 Best Snorkeling Spots on Maui in 2023
Maui has some of the best snorkeling in Hawaiʻi—and here are the spots HAWAIʻI Magazine readers love the most.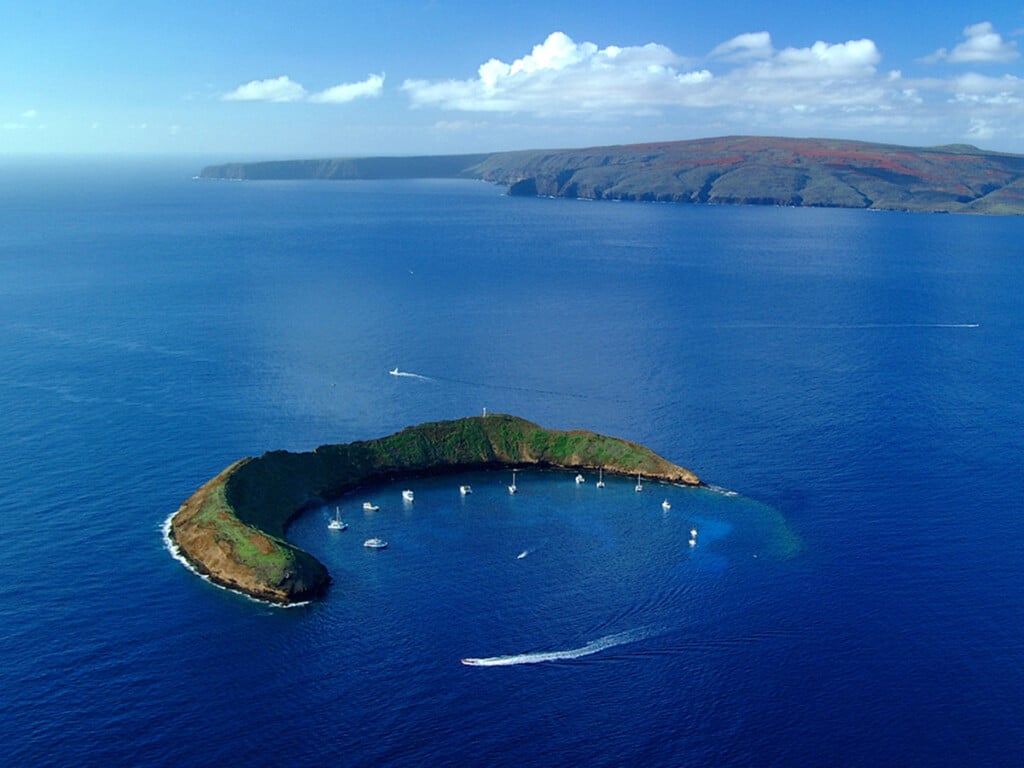 Maui has some of the best snorkeling in Hawaiʻi, from the pristine environment of Molokini Crater to the turtle haven at Maluaka Beach in Kīhei. These spots were voted as the best on the Valley Isle by our readers for the 2023 HAWAIʻI Magazine Readers' Choice Awards. (Note: Snorkeling is fun and great way to explore Hawaiʻi's waters. But it can be dangerous. Make sure you have proper equipment, check weather and ocean conditions, and when in doubt, don't go out.)
1. Molokini Crater
Located 3 miles from Maui's southwestern coast, Molokini is a small, crescent-shaped, uninhabited island surrounded by reef teeming with fish. The crystal-clear waters offer outstanding visibility to see more than 250 species of tropical fish, spinner dolphins and honu (Hawaiian green sea turtles). Molokini is only reachable by boat, and there are snorkeling and scuba tours to this islet daily.
2. Kā'anapali Beach (aka Black Rock Beach)
Kāʻanapali Beach is one of Maui's most popular beaches for a lot of reasons: It's a 3-mile stretch of white sand and aquamarine waters, fronting many of the island's top resorts and restaurants, with amazing sunset views. It's also a great place for snorkeling, especially near Puʻu Kekaʻa (aka Black Rock). This section of the beach has the most fish—but it can get deep very quickly. Like with all beaches, be safe and know your limits.
3. Kapalua Bay
Kapalua Bay, a horseshoe-shaped bay about 10 miles north of Lāhainā, is a convenient spot to snorkel, with a parking lot, bathroom and showers. (This is key for families!) The waters here are filled with fish, too, from Moorish idols to yellow tangs. Beginners should stay in the shallow waters; more advanced swimmers can venture into deeper waters. Be mindful of changing ocean conditions and strong currents.
4. Honolua Bay
Many people know Honolua Bay on Maui's northwest shore as a surfing spot. In fact, it hosts the big-wave Legends of the Bay contest in the winter. But during the calmer summer months, the bay, located about 20 minutes north of Lāhainā, is a great snorkeling spot, too. As part of the Mokulēʻia Marine Life Conservation District, the bay has an abundance of fish and coral formations to explore.
5. Maluaka Beach
Maluaka Beach (aka Turtle Town) is one of Maui's best-kept secrets. Like its nickname suggests, this beach, located south of Wailea and at the end of Maluaka Road, is a great spot for—guess!—marveling at honu. But there's also a variety of reef fish in the waters here and, for more experienced snorkelers, underwater sea aches you can explore. But remember, don't get too close to the turtles. They are protected animals. You have to keep at least 10 feet (3 meters) away from them on land and in the water.
See all of the winners of our 2023 Readers' Choice Awards in our latest issue, which you can buy here. Better yet, subscribe and get HAWAIʻI Magazine delivered to right to your mailbox.