The best malasada in Hawaii is …
Whether you like your malasadas coated with sugar, glazed or stuffed with pudding, you really can't go wrong with any of these malasada makers that were voted the best in Hawaii.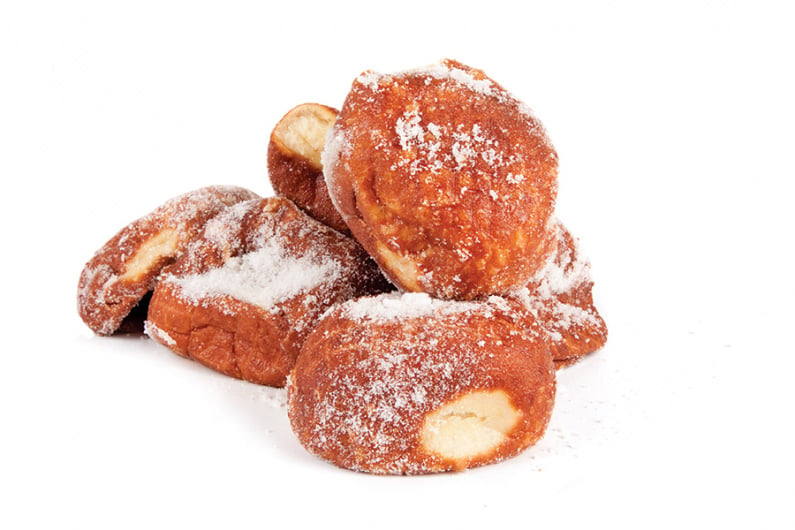 Malasadas, the sugar-dusted, deep-fried Portuguese doughnuts, have become a staple in comfort food in Hawaii. These doughy treats are loved so much in Hawaii that Fat Tuesday turned into Malasada Day, when thousands of malasadas are sold over a course of a few hours. However, the debate about which location serves up the best malasadas can sometimes get heated more than the malasadas themselves, so we let our readers vote for the best in our 2018 Reader's Choice Awards. Here's how they ranked.
1. Leonard's Bakery, Oahu
To those who have had the pleasure of eating here, it comes as no surprise that Leonard's has come in again at No. 1 for five years straight. Leonard's has been making malasadas since 1952, and in the same location on Kapahulu Avenue since 1957. While the bakery still offers its sugar-dusted originals, the malasada puffs filled with chocolate, custard and haupia puddings have taken it up a notch. Leonard's Bakery, 933 Kapahulu Ave., Honolulu, Oahu, (808) 737-5591, leonardshawaii.com.
2. Tex Drive In, Hawaii Island
Established in 1969, Tex Drive In has been serving malasadas for 49 years. Choose between a plain malasada or one that's stuffed with fillings, such as guava, mango, haupia or Bavarian cream. Eat outside and enjoy the gorgeous views of the ocean, or stand by the window and watch fresh malasadas being made. Tex Drive In, 45-690 Pakalana St., Honokaa, Hawaii Island, (808) 775-0598, texdriveinhawaii.com.
3. Kamehameha Bakery, Oahu
While Kamehameha Bakery is locally known for its purple poi glazed-doughnuts, it's also recognized for having some of the best malasadas on the island. You can get the original or the haupia-flavored malasada, but you best get there early before they're all gone. Kamehameha Bakery, 1284 Kalani St., Honolulu, Oahu, (808) 845-5831, kamehamehabakeryhi.com.
4. T. Komoda Store & Bakery, Maui
T. Komoda Store & Bakery opened its doors in 1916 and is one of the oldest family-owned stores on Maui. Its award-winning bakery serves over 30 different types of baked goods, but the cream puffs and malasadas are what helped build the reputation that has people lined up out the door. T. Komoda Store & Bakery, 3674 Baldwin Ave., Makawao, Maui, (808) 572-7261.
5. Punaluu Bake Shop, Hawaii Island
Near the popular Punaluu black-sand beach, Punaluu Bake Shop sells original, stuffed and lilikoi (passion fruit) glazed-malasadas alongside Danishes, burgers, sandwiches and plate lunches. Its 4-acre tropical estate prides itself on being the southernmost bakery in the United States and serves over 200,000 visitors each year. Punaluu Bake Shop, 95-5642 Mamalahoa Hwy., Naalehu, Hawaii Island, (866) 366-3501, bakeshophawaii.com.