13 Mistakes People Make When Traveling to Hawaiʻi Island
You won't find Waikīkī here.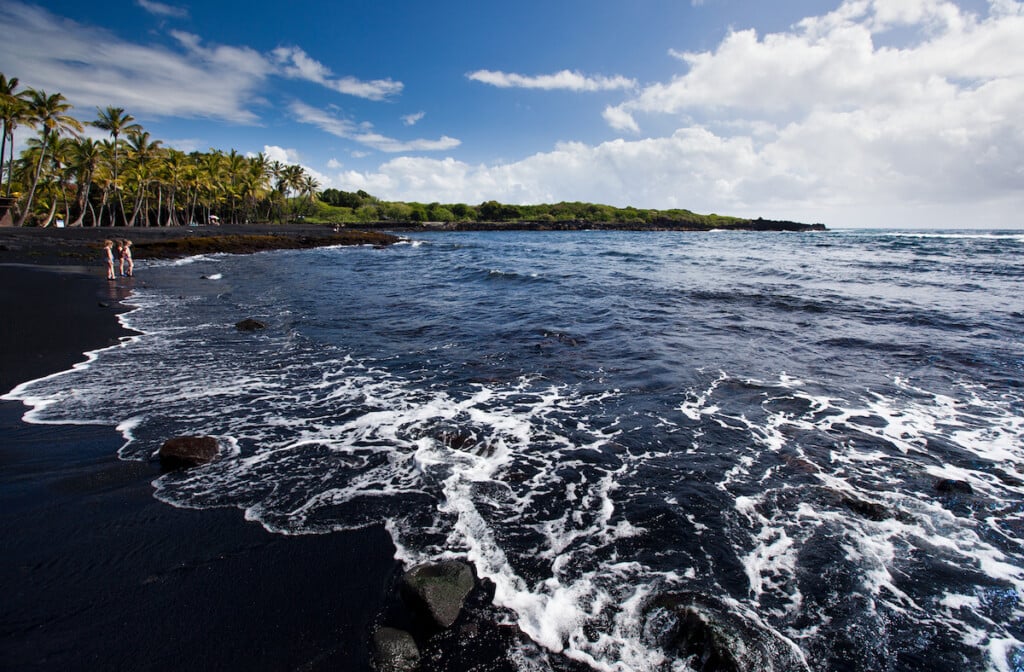 Stretching across a massive 4,028 square miles, Hawaiʻi Island is the largest and youngest of the Hawaiian archipelago. It boasts a diverse and awe-inspiring landscape, from active volcanoes to cascading waterfalls, from black-sand beaches to lush valleys. But despite its size and diversity, it's an island often overlooked by travelers to the Islands—and it's an island many don't know much about. Here are some common mistakes we've seen first-time travelers make when planning their trips to the Big Island.
1. It's Oʻahu.
This happens all the time: First-time visitors hear "Hawaiʻi Island" and think it must be Oʻahu, the third-largest island in Hawaiʻi with over two-thirds of the state's population. Oʻahu is where Honolulu, the state capital, and Waikīkī, the state's visitor hub, are located. Hawaiʻi Island, also called the Big Island, is the largest island in Hawaiʻi with only 13% of the state's population. If you're heading to Hawaiʻi Island thinking you'll fly over Lēʻahi (aka Diamond Head) or walk Waikīkī Beach, you'll be sorely mistaken.
2. You don't need a car.
It's not nicknamed the Big Island for nothing. This island—the youngest and largest in Hawaiʻi—is nearly twice as big as all of the other Hawaiian Islands combined. It has an area of 4,028 square miles—a little smaller than the size of Connecticut. (Rhode Island, by comparison, covers an area of only 1,545 square miles.) While there are walkable neighborhoods on the Big Island—Kailua-Kona and Hilo are two—you won't be able to see all of what this island has to offer without a rental car. Even to get to Hawaiʻi Volcanoes National Park, one of the most popular attractions on the island, you'll have to drive 30 miles from the Hilo International Airport or 100 miles from Ellison Onizuka Kona International Airport at Keāhole in Kailua-Kona. There's no public transportation on Hawaiʻi Island, though many hotels work with outfitters that provide transportation to major attractions. Ride-sharing options are likely too expensive to get around. Your best bet? Get a car.
3. You can see it all in one day.
It's not uncommon for people to fly to Hawaiʻi Island just to see the active eruption at Hawaiʻi Volcanoes National Park. But if you wanted to see the lava flow at night—arguably the best time—you'd have to stay overnight, as there aren't many evening flights out of Hilo or Kona. And that's if you only want to see Kīlauea. Imagine if you want to visit Papakōlea Beach with its shimmering green sand—it's a 90-minute drive from either Hilo or Kona. If you decide on a day trip to the Big Island, you'd be limited to activities near whatever airport you fly into—and you'd miss out on everything else that makes this island so unique.
4. There's always an active volcano.
It may seem like there's a volcano erupting somewhere on Hawaiʻi Island, but there are times when there's no volcanic activity at all. But there's a reason why many people think Kīlauea is always spewing lava. Because for 35 years it did. In 1983 Kīlauea started erupting, and this eruption lasted until 2018—making it the longest- and most voluminous-known outpouring of lava from this area in more than 500 years. Today, though, Kīlauea isn't nearly as consistent. Up until last week—June 7, to be exact—there was no active eruption at Kīlauea. Mauna Loa, the largest active volcano in the world, erupted for about 12 days in late 2022—the first eruption since 1984. Check with Hawaiʻi Volcanoes National Park on current eruptions and conditions—because both can change quickly.
5. Taking lava rocks is OK.
Not only is it illegal to take lava rocks from any national park in Hawaiʻi—including Hawaiʻi Volcanoes National Park—but it's also considered back luck. (Because of this, thousands of rocks and bags of sand are mailed back to the national parks.) "Hawaiʻi is indeed a place full of mana. Every object, the rain, the wind, the stones, the plants and animals, the people who are here, so when you do frivolous things with that kind of power, you're bound to pay for it," Native Hawaiian culture practitioner Sam Ohu Gon to CBS News.
6. The weather will be the sunny all the time—it's Hawaiʻi!
It's not always sunny in Hawaiʻi. In fact, during winter and spring, it often rains. From June 1 to Nov. 30 it's hurricane season in the Islands, which can bring tropical cyclones and other storms. In addition, Hawaiʻi Island boasts 10 of the world's 14 climates, from wet tropical to polar tundra. Yes, it actually snows here. Despite our tropical latitude—we're farther south than Florida—snow falls every year on the three tallest volcanoes in Hawaiʻi: Mauna Kea and Mauna Loa on Hawaiʻi Island and Haleakalā on Maui. Hawaiʻi Island is one of the only places in the world where you can walk in snow, then drive an hour to the coast and bask on a sunny beach.
7. All Hawaiian Islands have tons of white-sand beaches.
You won't find the abundance of golden and white-sand beaches on Hawaiʻi Island that you'll see on Oʻahu, Maui and Kauaʻi. This is the youngest island, with current volcanic activity that's altering the topography, so many of the beaches here will have rocky shorelines. Hāpuna Beach on the Kohala Coast, though, is one of the largest white-sand beaches on the Big Island with conditions good for swimming and snorkeling. But don't let that dissuade you from seeking out beaches: Hawaiʻi Island is known for its stunningly gorgeous black-sand beaches, like Punaluʻu and Pohoiki beaches. There's even a green-sand beach—Papakōlea Beach—on the island's southern tip.
8. You can have a late dinner.
Most restaurants don't open late on Hawaiʻi Island, though you can find some (mostly bars) in visitor-centric areas like Kailua-Kona. Laverne's Sports Bar, for example, is open until 2 a.m., and Hilo Town Tavern is open until midnight. But other popular restaurants close before 10 p.m., even on weekends. If there's a specific restaurant or bakery you want to try, check its hours and plan accordingly.
9. Only Maui has waterfalls.
Hawaiʻi Island has two of the most accessible waterfalls in Hawaiʻi. The lookout to see the 80-foot ʻAnuenue (aka Rainbow) Falls in Hilo is just steps from the parking lot. And it's a short hike on a paved path in ʻAkaka Falls State Park to see two waterfalls: the 100-foot Kahuna Falls and ʻAkaka Falls, which plummets 442 feet into a stream-eroded gorge.
10. Kona coffee is just coffee.
Hawaiʻi is one of two states—the other is California—where coffee is grown commercially, and Kona-grown coffee is particularly unique. It's one of the most expensive coffees in the world, getting it distinctive flavor notes from the area's mild climate and volcanic soil. This is the only place in the world Kona coffee is grown—so you may as well try it! Many farms offer tours and tastings.
11. There are no big resorts or high-end hotels.
Some of the state's best resorts at located on Hawaiʻi Island, including the Four Seasons Resort Hualālai, the Fairmont Orchid and the Mauna Lani, a Auburge Resorts Collection—all luxurious and splurge-worthy. There's also the massive Hilton Waikoloa Village, which sprawls over 62 acres and boasts the largest pool on the island, with a 175-foot waterslide, rope bridges and a sandy beach for keiki. Whatever kind of hotel or accommodation you need, you'll find on Hawaiʻi Island.
12. There's only one national park on the island.
Most people have heard of Hawaiʻi Volcanoes National Park, but there are actually five national parks on Hawaiʻi Island. The other four are Puʻuhonua o Hōnaunau National Historical Park, Kaloko-Honokōhau National Historical Park, Ala Kahakai National Historical Trail and Puʻukoholā Heiau National Historical Site.
13. There's nothing to see or do.
Hawaiʻi Island has just about everything you could want in a Hawaiian vacation: cultural sites, hiking trails, zip lines, waterfalls, beaches, high-end spas, a range of culinary options. But what is offers that no other island can is sheer space to escape. Oh, and active volcanoes.