7 Artsy Towns in Hawaiʻi You'll Love
These colorful neighborhoods are filled with offbeat charm, personality and plenty of galleries.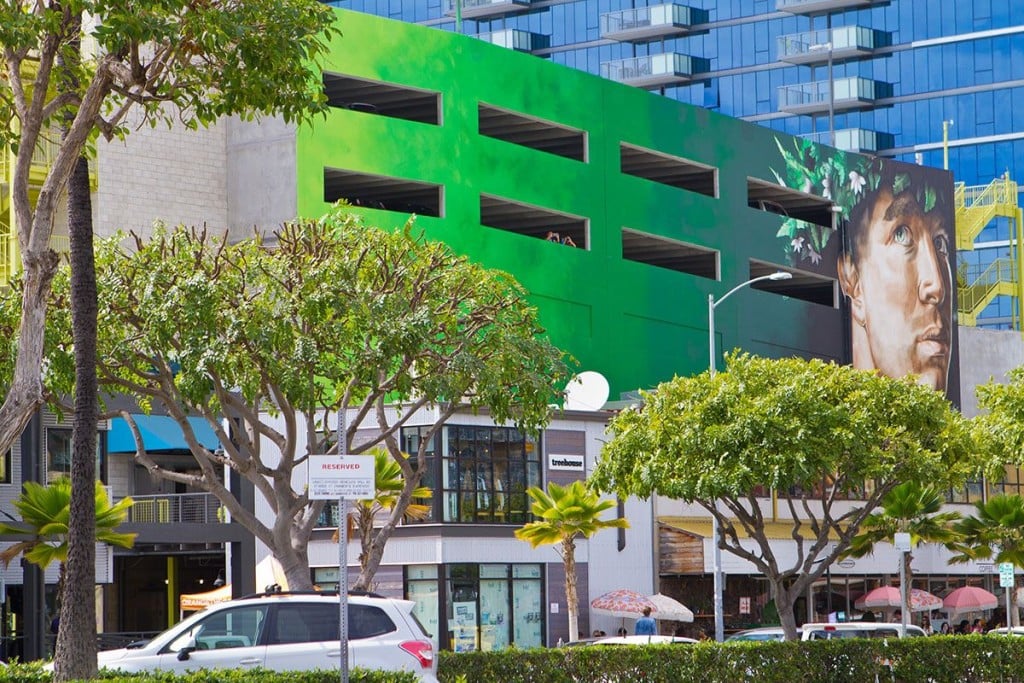 Stray away from the ordinary in Hawaiʻi to discover artsy towns not only filled with galleries, but also funky boutiques, record stores and under-the-radar eateries. From a former plantation neighborhood on the small island of Lānaʻi to the mecca of street art in the heart of Honolulu, you'll feel the magnetic draw of these colorful towns.
1. Pāʻia, Maui
The minute you arrive in Pāʻia you'll feel the free-spirited vibes. Once a quiet plantation neighborhood, Pāʻia is now a vibrant surf hub on Maui's north shore drawing international athletes as well as local artists and soul-searching travelers. The sand-dusted streets of this beach town are lined with art galleries including Pueo Gallery and Art Project Pāʻia. But among the art emporiums, you'll also find laid-back eateries like Café des Amis and Flatbread Pizza Co. along with rad surf shops such as Hi-Tech Pāʻia. While in town, make sure to head up Baldwin Avenue to visit the Maui Dharma Center to see its stupa and learn more about Tibetan Buddhism. And be on the lookout for hidden businesses tucked behind bikini shops, like Pāʻia Bay Coffee and the consignment shop behind Biasa Rose.
2. Wailuku, Maui
Drive through Wailuku and the vibrant murals by local artists will certainly catch your eye. But it's well worth your time to park the car and explore this place on foot. Nestled against the West Maui Mountains and just a couple of miles east of ʻĪao Valley, Wailuku is growing its art scene thanks to Small Town Big Art. The foundation works with local artists to celebrate the island's vibrant culture through visual, experiential and performance-based arts. These creative vibes flow through the street right into cozy coffee houses like Maui Coffee Attic, eclectic antique shops like Antique Freak and the nostalgic record store Request Music. And like its emerging art scene, Wailuku is building a reputation as a foodie destination thanks to eateries like Shikeda Bento Pâtisserie. The bento joint offers a modern-take on the classic bento as well as delicate French-inspired pastries. The town is also home to chef Sheldon Simeon's newest restaurant venture, Tiffany's. The "Top Chef" alum revived the beloved mainstay, condensing its once 150-item menu to 50. Long time Tiffany's regulars don't need to worry: Simeon kept popular favorites like kimchi fried rice and honey walnut shrimp. And he of course put his own mark on the menu by adding new dishes like stir-fried squid with gochujang and mapo tofu with Sichuan pepper.
3. Kailua, Oʻahu
Best known for its golden stretches of sand and aquamarine waters, Kailua's charm goes beyond the beach. Here, you can order brunch at a barbecue restaurant, sip beer at a philanthropic brewery and shop for beach attire and unique souvenirs at local art shops. So, spend a slow morning or afternoon in laid-back Kailua. Start with brunch at Easy 'Que, then visit stores by artists Nick Kuchar and Lauren Roth, and end with a flight of craft beer at Grace in Growlers. While strolling through town, be on the lookout for traffic boxes decorated by local painters and murals by Native Hawaiian artist Sara Saffery.
4. Kakaʻako, Oʻahu
Each spring, artists from around the world flock to Honolulu's Kakaʻako district—the undeniable mecca of street art in Hawaiʻi—for the annual POW! WOW! street art festival. While here, they create dozens of murals, making for a magnificent walk-through gallery spanning several city blocks. The murals remain on display until the following year's festival. But Kakaʻako is more than just street art. The district, which was once known for its auto body shops is now inhabited by coffee shops serving artisanal lattes, highly curated clothing boutiques and hip record shops. Just stop by the shopping center SALT at Our Kakaʻako to see for yourself.
5. Hanapēpē, Kauaʻi
In Kauaʻi's "biggest little town," historic buildings are filled with mom–and–pop restaurants, quaint shops and more art galleries than any other neighborhood on the island. And Friday Art Nights are when this typically sleepy town awakens. Since 1997, the weekly art market has drawn crowds to Hanapēpē's historic streets. Like many events, art night was paused during the COVID-19 pandemic and didn't restart until July 2022. Galleries once again welcome people to browse art by the island's creatives, and local eateries and shops will be open too.
6. Hōlualoa, Hawaiʻi Island
The quiet town of Hōlualoa rests on the slopes of the dormant Hualālai volcano between Kailua-Kona and Keauhou. Surrounded by hundreds of coffee farms, Hualālai is deep in Kona coffee country, where you'll find some of the best java in the Islands. But the village is also known as an art enclave. Along Mamalahoa Highway, you'll find colorful collectibles at Barbara Hanson Art, incredible sculptures at Glyph Art and one-of-a-kind ʻukulele at the Hōlualoa ʻUkulele Gallery & Workshop, which is located in the town's old post office. If you're on the island during November, make sure to stop by the annual Hōlualoa Village Coffee & Art Stroll to sip on Kona coffee blends while you shop crafts created by local artisans.
7. Lānaʻi City, Lānaʻi
Lānaʻi City was established in the early 1900s as a plantation town during the booming pineapple industry. Today, it's still the main hub of the island that's home to only about 3,300 residents. Despite being small and quaint, Lānaʻi City has its own distinct personality—and art is a big part of it. Stop by the Lānaʻi Art Center for a glimpse of the artistic talent in town. The gallery features works by local artists, from watercolors to sculptures made with red clay.