8 More Places to Brunch on Oʻahu—and What To Order
If you love eggs Bennies and day drinking, bookmark these Oʻahu spots.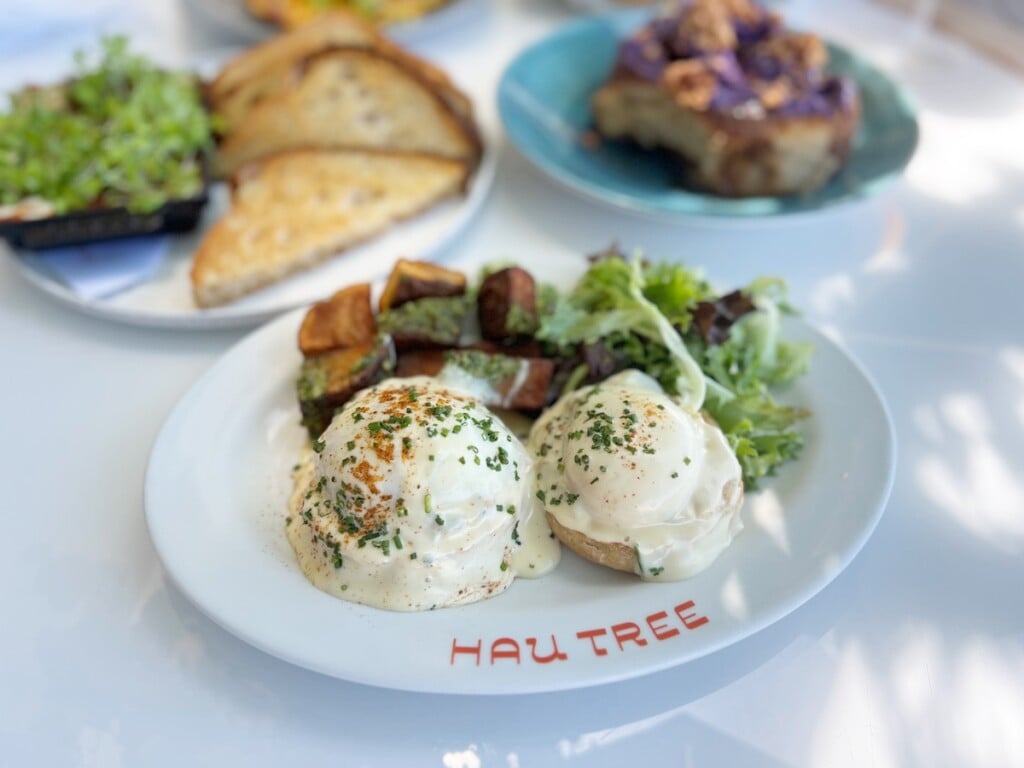 Is there a more perfect meal than brunch?
It combines the sweet offerings of breakfast—think crispy-edged pancakes and stuffed French toast—with the savory bites of lunch. And everything is topped with an egg!
Oʻahu has no shortage of breakfast and brunch spots, from staples like Zippy's Restaurants (where you can order breakfast all day in the restaurant) to new spots like the upscale Podmore in Chinatown, one of the only places on the island that serves a classic English breakfast. In fact, we wrote about 13 brunch spots—some have closed, though—that we love on Oʻahu.
Here are eight more brunch spots to check out the next time you're on Oʻahu.
1. Heavenly Island Lifestyle, Waikīkī
Tucked away on Seaside Avenue in Waikīkī, Heavenly Island Lifestyle prides itself on using local ingredients—organic whenever possible. Breakfast is served from 7 a.m. to 2 p.m. daily, with local twists on brunch classics, like kālua pig eggs Benedict and French toast made with Big Island honey.
What to Order: Heavenly's signature dish—and its most popular—is the loco moco with organic beans and veggies. Yes, veggies! The beef is sourced locally, too. Another must-try is the new Coco Bowl, an açaí bowl with pineapple, papaya, corn flakes (for crunch) and coconut granola, all topped with a honey-coconut whip and shredded coconut lime. It's a fun twist on an açaí bowl.
2. Hau Tree, Waikīkī
The Hau Tree restaurant at the recently refreshed Kaimana Beach Hotel in Waikīkī has long been a favorite among residents and visitors. Its location—right on Kaimana Beach with perfect sunset views—is unmatched. Chef John Taube IV has revamped the menu at this oceanfront restaurant, adding dishes like hamachi (amberjack or yellowtail) lomi lomi with cured lemongrass and local tomatoes, and squid ink campanelle with black truffle fonduta. Hau Tree's brunch menu combines the restaurant's old signatures—eggs Benedicts and lemon ricotta pancakes—with new items, including shakshuka with sourdough toast, a sesame-crusted fish sandwich, a local ʻahi niçoise Brunch is super popular and reservations are strongly recommended.
What to Order: New to the menu is a delicious (and healthy!) frittata with bits of Portuguese sausage, sun-dried tomatoes, roasted peppers, cheddar and a salsa verde. The avocado toast is always a sure bet, with tomato jam, tomato relish and a soft-boiled egg. Also new is the ube cinnamon roll, a gorgeous—and huge—gooey cinnamon roll topped with bright purple ube cream cheese frosting and candied mac nuts.
3. Waiʻoli Kitchen & Bake Shop, Mānoa
This Mānoa restaurant has a mission: to provide real-life vocational training for recovering substance abusers. Though the menu is small—when compared to other brunch spots—the dishes are delicious. The pastry offerings—fresh breads, scones and pies—are must-trys. Note: The restaurant adds a 3% training surcharge to every order, which helps offset some of the costs associated with vocational training. It's also closed on Sundays and Mondays.
What to Order: If you want something hearty, try the short rib loco moco, which comes with hapa (white and brown) rice and two eggs. The açaí bowls is served in a fun coconut shell with fresh, seasonal fruits. And the banana-macadamia nut pancakes are topped with toasted mac nuts, shredded coconut and a housemade coconut syrup.
2950 Mānoa Road, Mānoa, (808) 744-1619, waiolikitchen.com
4. Smith & Kings, Downtown Honolulu
Smith & Kings, a gastropub in Downtown Honolulu, offers a weekend brunch with everything you could ever want: lobster deviled eggs, pork belly Benedicts, a brunch burger. There's even poutine fries! (That's hand-cut fries topped with cheddar cheese, brown gravy and bacon.)
What to Order: If you love mac 'n' cheese, you'll dig the one here, made with a five-cheese béchamel sauce. (There's also a version with lobster and another with bits of fried chicken.) We're addicted to the buttermilk chicken and Belgian waffles combo, with whipped butter and maple syrup. Splurge for the mimosas, too.
Smith & Kings, 69 N King St., Honolulu, thesmithandkings.com, @smithandkings
5. Monkeypod Kitchen by Merriman, Waikīkī
There's only one Monkeypod Kitchen by Merriman that serves breakfast—and it just opened in Waikīkī. Located right on the beach at the Outrigger Reef Waikīkī Beach Resort, this restaurant also serves lunch and dinner—and its happy hour is great, too. But the breakfast menu is new and exciting, with a blend of classics and unique dishes you won't find anywhere else.
What to Order: Try the Monkeypod mai tai flapjacks, topped with Kula rum butter syrup and the same honey-lilikoʻi foam that's on the restaurant's signature mai tai. Or the Hawaiian chilaquiles, with shredded kālua pork, housemade ancho chile salsa, jalapeño, white cheddar, avocado and more on tortilla chips. My favorite dish, though, was the The Cure, a hearty ramen dish with kālua pork, bok choy, mushrooms, poached egg, red onion, carrots and bean sprouts in a red chili chicken broth.
Outrigger Reef Waikīkī Beach Resort, 2169 Kālia Road, Waikīkī, (808) 900-4226, monkeypodkitchen.com
6. Liliha Bakery, Various
You can't go wrong with breakfast at Liliha Bakery—and now it boasts five locations on Oʻahu, including one at the International Market Place in Waikīkī and another at Ala Moana Center. (The latest opened at the Pearl Highlands Center in Pearl City.) The menu is full of comfort-food staples like country-style omelets, loco mocos and fried rice.
What to Order: The hot cakes are one of the bakery's best-sellers, and you can a chocolate chip version or one topped with berries and nuts. The Waffard—yes, weird name, we know—combines a waffle with custard, blueberries, strawberries, mixed nuts and whipped cream. Hungry? Order the smoked pork belly loco moco with strips of pork belly smoked in-house, eggs and gravy over fried rice.
7. Empty Elle Bagels, Kailua
Two years ago Empty Elle Bagels opened in Kailua, bringing Montreal-style bagels to the island. (From what I understand, Montreal bagels, which tend to be denser and sweeter than New York ones, are boiled in water that has been sweetened with honey.) The menu here features a range of toppings, from the classic cream cheese with a dollop of Big Island lilikoʻi (passion fruit) jam to Oʻahu-grown beets and goat cheese. It even has a Dog Bagel with grain-free peanut butte, honey and organic, free-range eggs—for your dog!
What to Order: The Lemon features lemon butter from Hawaiʻi Island and black raspberry jam from Kula on Maui. If you like spicy, try the Spicy, with freshly made hummus and slices of spicy pickles on a toasted Everything bagel. For a hearty breakfast, get the Eggel, an egg bagel sandwich with cream cheese, two eggs, diced bacon and sharp cheddar cheese.
143 Hekili St. (inside Grace in Growlers), Kailua, Oʻahu, emptyellebagels.com, @emptyellebagels
8. Scratch Kitchen, Hawaiʻi Kai
View this post on Instagram
Scratch Kitchen has long been known for its brunch, but it recently opened a second location in Hawaiʻi Kai—on the way to Hanauma Bay!—with a slew of dishes that we haven't seen on any other brunch menu. Like the teppan gandule rice with roasted cherry tomatoes, or the creole shrimp 'n' sausage grits with white hominy and red-eye gravy.
What to Order: Popular dishes include the milk 'n' cereal pancakes topped with fresh fruit and the spicy southern-fried chicken and waffles with jalapeños and pickled onions. It also serves a brûlée'd French toast with shredded coconut and maple syrup and a fried pork chop pasta with a garlic-lemon sauce. The chilaquiles—shredded chicken, chipotle tomato salsa, sunny eggs, queso, crema, cilantro, avocado—hits the spot.