The 5 Best Beaches in Hawaiʻi in 2023
Find out which beaches around the Islands HAWAIʻI Magazine readers love the most.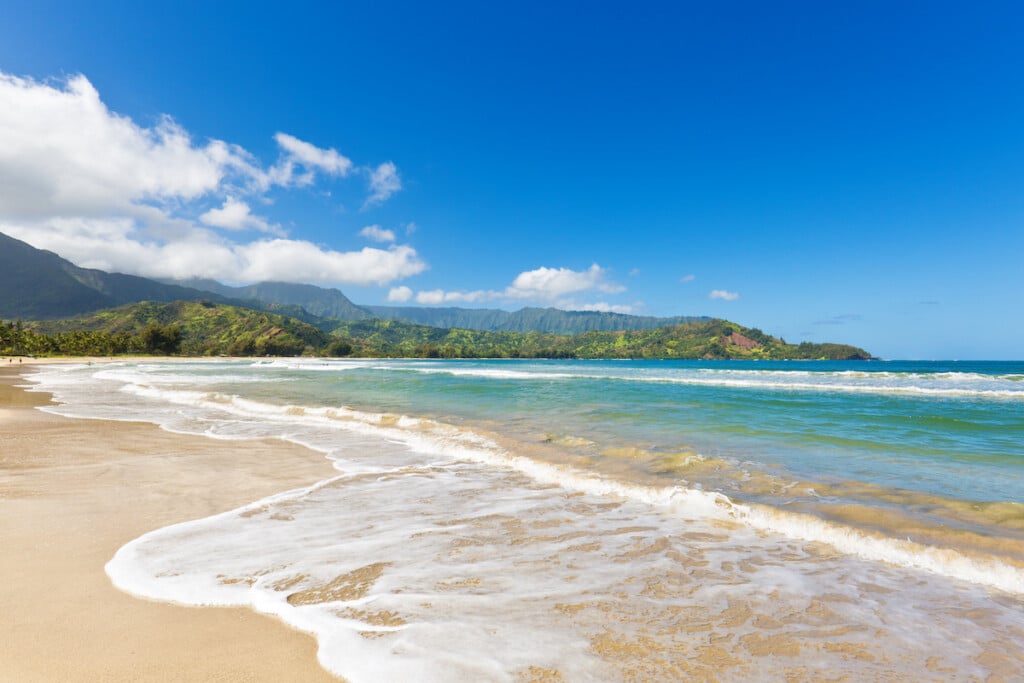 Hawaiʻi has some of the world's best beaches, from the magical shores of Hanalei Bay on Kauaʻi to the aquamarine waters off Lanikai on Oʻahu. Putting together a list of the best beaches is nearly impossible—so we asked our readers. The results are in, and here are the best beaches from around the Islands that HAWAIʻI Magazine readers love the most in 2023.
Hanalei Bay, Kauaʻi
There's something so magical about Hanalei Bay on Kauaʻi. Maybe it's the lush mountains that provide the scenic backdrop for the crescent-shaped bay. Maybe it's the inviting aquamarine waters. Or maybe it's just the way Hanalei makes you feel: relaxed and on vacation. There's lots to do here, too, from beachcombing to swimming to surfing when conditions are right. Or you can do what we do—lounge on the beach and do nothing at all.
Poʻipū Beach, Kauaʻi
Poʻipū Beach on Kauaʻi's sunny south shore has everything you'd want in a beach. It's expansive, with golden sands and stunning sunset views. You can catch waves, snorkel or play in the gentle tide pools. Not to mention it's near resorts, restaurants and convenience stores, with lots of parking and a playground nearby.
Kāʻanapali Beach, Maui
Stretching 3 miles, Kā'anapali Beach on Maui's west side is one of the island's most popular beaches—and for good reason. There's great snorkeling here—look for honu (Hawaiian green sea turtles) and an array of tropical reef fish—and fun surf breaks. In the winter watch migrating humpback whales frolic in the warm waters here. Fronting the beach are hotels, shops and restaurants, making it easy to spend the entire day (and night) here. Stay for sunset and watch the cliff-diving ceremony off the beach's northernmost cliffs known as Puʻu Kekaʻa, or Black Rock.
Waikīkī Beach, Oʻahu
Stretching along the south shore of Honolulu, Waikīkī Beach is one of the most recognizable shorelines in the world. Once the playground for aliʻi (Hawaiian royalty, Waikīkī Beach is now the playground for modern-day visitors and residents who are drawn to the lively neighborhood. Take a surfing lesson, ride waves in an outrigger canoe, sip a mai tai at an oceanside bar, and catch the nightly fireworks over the Hilton Hawaiian Village.
Lanikai Beach, Oʻahu
Arguably one of the most beautiful beaches in Hawaiʻi, Lanikai Beach—which surprisingly didn't make the Top 5 last year—is a half-mile of glittery sand and crystal-clear water on Oʻahu's Windward Side. Sunrise is spectacular here, with an unobstructed view of the sun rising over the twin Mokulua Islands. (Parking, though, can be tricky.)
See all of the winners of our 2023 Readers' Choice Awards in our latest issue, which you can buy here. Better yet, subscribe and get HAWAIʻI Magazine delivered to right to your mailbox.