14 Fun Things To Do With Kids on Kauaʻi
From exploring a limestone cave to riding a train through an old sugar cane plantation, there's lots for families to do on Kauaʻi.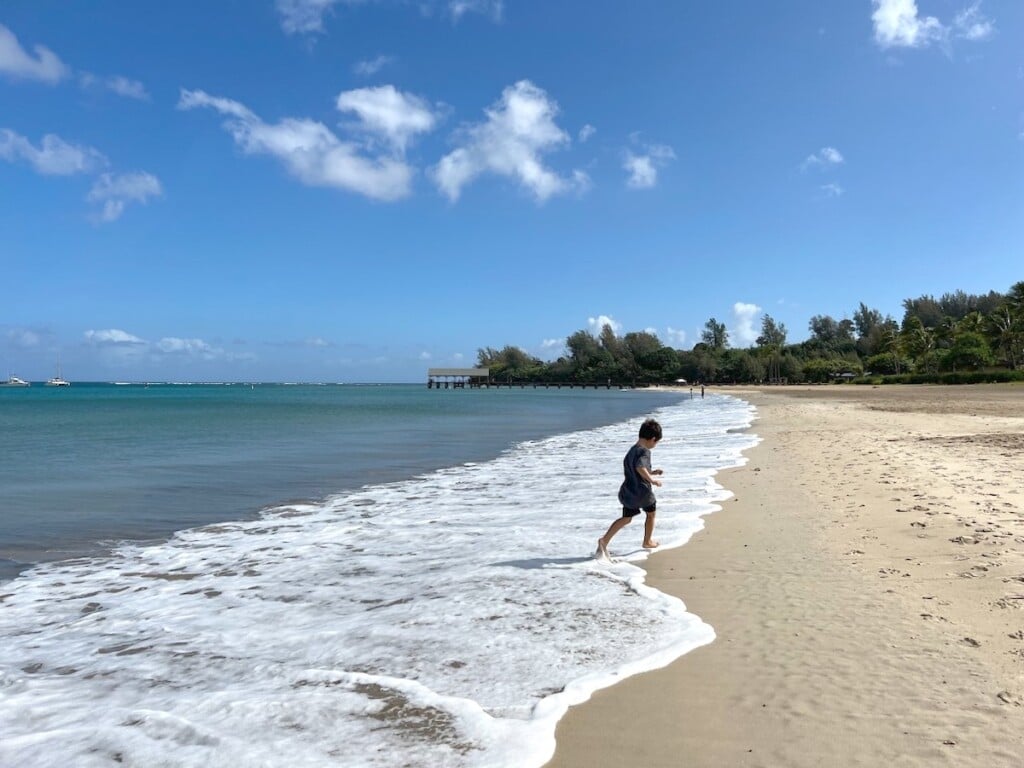 Most people travel to Kauaʻi to escape from bustling city life, to unwind and relax on one of the island's many quiet beaches.
Kids and relaxation don't always go hand-in-hand.
But the Garden Isle actually offers a lot to do for vacationing families, from kid-friendly hikes and beaches to epic playgrounds that will occupy your kids for hours. Here are our picks for the best things to do with kids on your next trip to Kauaʻi.
1. Go Hiking
While Kauaʻi may be better known for its grueling hikes—the 11-mile Kalalau Trail on its north shore comes to mind—there are a handful of great hikes around the island for kids, too. The 4-mile (round trip) Māhā'ulepū Heritage Trail starts at Keoneloa Bay, commonly referred to as Shipwreck Beach, near Poʻipū and follows the rugged coastline to the largest limestone cave in Hawai'i, Makauwahi Cave. Near Kīlauea, the Wai Koa Loop Trail is a hidden gem on the island's north shore; the 5-mile hike meanders through a photogenic mahogany forest to a secluded swimming hole. And Kōkeʻe State Park is full of great hikes for all skill levels; the 2-mile round trip Waipoʻo Falls Trail takes you to the top of the 800-foot waterfall with stunning views of Waimea Canyon.
2. Ride a Train
The Kauaʻi Plantation Railway is a 40-minute train ride through the historic Kilohana Plantation, just 10 minutes from Līhuʻe Airport. The kids will love sitting in the open-air passenger cars while you learn about the history of this old sugar cane plantation. The one stop on this ride is really the best part: You get to hand-feed pigs, goats, donkeys and cows!
3. Visit Hanapēpē
Located on the south shore west of Kōloa, Hanapēpē is a small town with big charm. The plantation-style buildings here house cute boutique, restaurants and bakeries, and everyone in the family will find something to read at Talk Story Bookstore. The backdrop to 2002 Disney film "Lilo & Stitch" was inspired by Hanapēpē, and you'll find references to the popular movie all over the town. Kids love walking across the historic Hanapēpē Swinging Bridge, and don't forget to stop by the Taro Ko Chip Co. for a big of freshly made taro and sweet potato chips for the road.
4. Learn to Surf
Learn to surf in the state where the sport was born. There are several surf schools on Kauaʻi, and all of them offer both group and private lessons. Poʻipū Beach Surf School, located on the south side of the island, offers a 90-minute session for kids as young as 6. Hawaiian Surfing Adventures offers 90-minute lessons in the picturesque Hanalei Bay.
5. Kayak and Hike to a 'Secret' Waterfall
Book a guided kayaking tour of the Wailua River, the largest navigable river in Hawaiʻi, running 20 miles long. Hidden in the back of the river is the 120-foot Uluwehi Falls—often referred to as Secret Falls. It entire tour—from kayaking to hiking—takes about 4 hours and includes lunch. Longer if you swim in the pool at the base of the falls.
6. Visit a Playground
Kauaʻi has a few standout playgrounds, sure to keep your kiddos occupied for hours. A favorite is the Kamalani Playground at Lydgate Park. Open in 1994, this playground boasts a maze-like wooden structure with swings, tire walks, slides and lots of ways for kids to hide and play. There are picnic tables surrounded by ironwood trees—meaning, lots of shade—and restrooms and water fountains. Other great playgrounds include the Princeville Playground, the playground at Anaina Hou Community Park, and the Poʻipū Beach Playground located right at Poʻipū Beach.
7. Eat Shave Ice
You can't visit the Islands without sampling shave ice—and Kauaʻi has a lot of options. If you're hiking in Kōkeʻe State Park, head to JoJo's Shave Ice in Waimea Town; get yours topped with the shop's housemade haupia cream. In Kōloa, The Fresh Shave uses handcrafted, all-natural syrups and fresh fruits. Kīlauea Shave Ice opened recently next to the Kīlauea Fish Market; pair your super-fine shave ice with a poke bowl.
8. Hit the Beach
Kauaʻi has some of the best beaches in Hawaiʻi. Dreamy Hanalei Bay on the island's north shore is long and wide, great for walking (or running). Take surf lessons here, swim in the calm nearshore waters, picnic during sunset or walk along the historic Hanalei Pier. (Winter can bring large surf to this beach, so take precaution.) Nearby ʻAnini Beach is a great spot for families, with its protected waters perfect for snorkeling and swimming. Poʻipū Beach is a favorite for families; the golden beach on the island's sunny south shores is calm—and there's a playground, too.
9. Go Mountain Tubing
One of the most unique Kauaʻi experiences is floating down an old irrigation ditch in the historic Līhuʻe Plantation with Kauaʻi Backcountry Adventures. On this 3-hour tour, you'll float down the open canals and through five tunnels and flumes hand-dug in the 1870s. It ends at a picnic area for lunch and a dip in a natural swimming hole. Kids have to be at least 5 years old.
10. Ride a Horse
View this post on Instagram
Imagine riding a horse—but on a beach on Kauaʻi. CJM Country Stables offers two 2-hour group tours on the island's south side, from the Māhā'ulepū Beach Ride to the smaller Secret Beach Picnic Ride. Kids must be at least 8 years old, and you have to wear covered shoes. (Long pants in recommended but not required.)
11. Visit a Botanical Garden
View this post on Instagram
It was like the Na ʻĀina Kai Botanical Gardens and Sculpture Park was made for kids. There's a Children's Garden, complete with a treehouse made from a rubber tree, rope bridges, tunnels, slides and a small train. There's a full-size hedge maze that's great for the entire family to explore. And every month the gardens host a Splash & Play event in the children's garden, where they can play in Jack's Fountain. There are several tours, too, including ones geared toward families.
12. Eat Saimin
Saimin is a uniqiue dish to the Islands—and kids will love it. Our pick is Hamura Saimin Stand, an old-school shop in Līhuʻe that serves some of the best noodles in Hawaiʻi. It's so good, it was honored by the James Beard Foundation as an America's Classics in 2006. Don't forget to order a slice of its famous lilikoʻi (passion fruit) chiffon pie.
13. Visit a Farmers Market
View this post on Instagram
It's always fun to browse a farmers market—and let the kids run around and explore. The Hanalei Farmers Market runs on Saturday mornings with fresh juices, locally made honey, fresh-baked goods, crafts by local artisans and locally grown produce. The Waipā Foundation hosts an outdoor market on Tuesdays afternoon with vendors selling fresh fruits and veggies, a variety of foods and crafts. The Kauaʻi Community Market hosts its farmers market on Saturday mornings at the Kauaʻi Community College in Līhuʻe with fresh produce, grab-and-go gifts and foods, and educational booths.
14. Fly on a Zipline
View this post on Instagram
What kid wouldn't want to fly over a jungle on Kauaʻi? Kōloa Zipline offers a 3.5-hour tour on its course above the island's south shore. The company boasts three of the longest individual ziplines on the island. Kids must be at least 7 years old. Outfitters Kauaʻi has 10 lines and four tours, including a water zipline. In 2017 it launched a 3/4-mile-long FlyLine Kauaʻi Zipline—the island's longest—on which you can reach speeds of 60 miles per hour. One of its tours takes children as young as 3.