Makawao's Popular Café Returns in a Colorful New Location as Vida by Sip Me
At Laura Night's new place, it's all about specialty lattes, delectable pastries and once again, fostering a sense of community.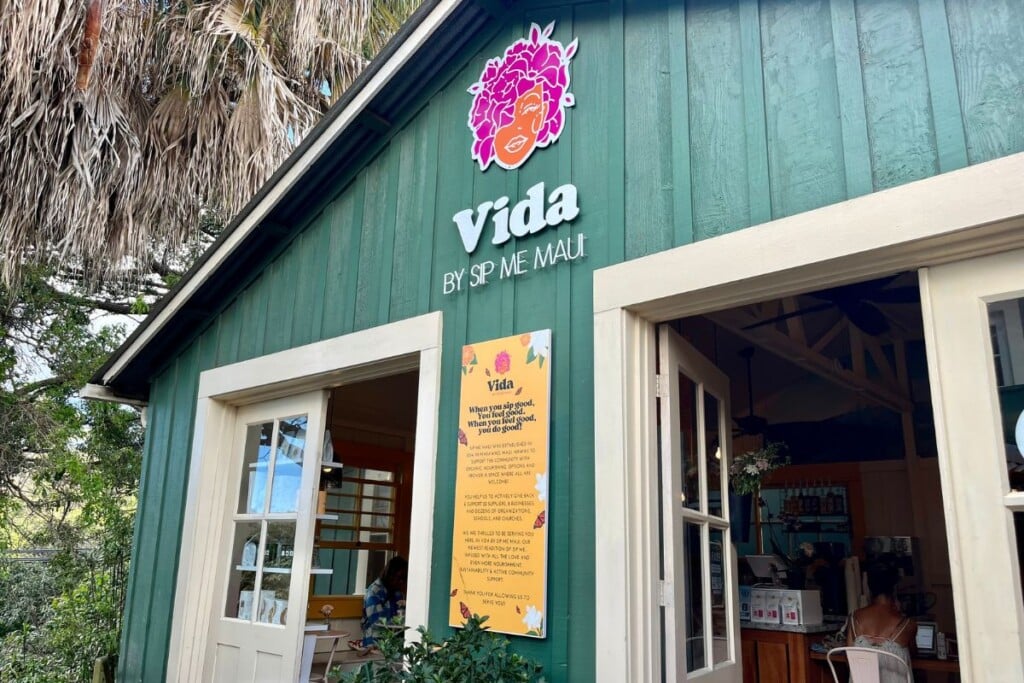 At an early age, Laura Night understood that cafés connect people. While growing up in Livingston, Montana, her grandfather would take her to a local coffee shop every week and, with that, Night says, "It was ingrained that community equals coffee and coffee equals community."
Reflecting on those coffee shop visits, Night says it's no surprise she decided to launch her own café.
In 2014, Night opened Sip Me in Makawao, Maui. "That was the first location I ever opened, so I had no idea what I was doing," she admits. But customers say they adored Sip Me, not just for the coffee and cinnamon rolls—which were a town favorite—but because the café was so welcoming. "I wanted the community to feel like they were coming into my home and feel like they were taken care of," explains Night.
Over seven years, Sip Me became the pulse of quiet Makawao town. It was a community gathering place, where tables were filled with regulars every day, and sitting alongside Upcountry locals were travelers who found the place on social media and made Sip Me a must-visit on their Valley Isle itineraries.
So, when Sip Me lost its lease in November 2021, it was a devastating and shocking blow for both Night and many in the Upcountry community. After that, Night says opening another coffee shop wasn't on her mind; instead, she says, she needed a few months off.
But there were too many serendipitous signs that she couldn't ignore.
A former longtime diner at Sip Me approached Night about opening a new shop—just down the road from her first location. Without Sip Me, Makawao lacked its coffee spot and community hub, but Night wasn't sold on the idea. And then came a flurry of messages from other customers, who shared their appreciation for Sip Me. "At first, I was hesitant. I wanted to make sure if I restarted, I could do it with the same passion and love that I did before," she says.
Ultimately, Night couldn't turn away from the Makawao community. She dove back into business, partnering with Tia Trotter as the new shop's creative director. While still preserving the spirit of Sip Me, the duo restyled the business with a new name and appearance. Inspired by "viva la vida," a phrase Frida Kahlo inscribed on some of her artwork—one of her most famous pieces is "Viva la Vida, Watermelons"—they landed on Vida by Sip Me as the new name. The pair also used the vibrant colors from Kahlo's bold work in their branding. "It came together like magic," Night says.
As details for the business were falling into place, Night recalls still feeling extremely nervous, and leading up to the grand opening of Vida by Sip Me, she wondered what she was getting into. "We were closed for 365 days," she says. "Would we still be relevant?"
But on Nov. 3, 2022, Vida by Sip Me opened its doors and the community flooded in. That first day was like a family reunion, Night says, with so many former customers showing their support. "Vida is its own living, breathing community presence. When we opened our doors and saw customers again, I had tears in my eyes for three weeks," she says. "We picked up right where we left off."
Coffee connoisseurs can find Vida by Sip Me in a spacious courtyard right off Baldwin Avenue. Nestled in an emerald green bungalow, it's a departure from the simple, clean appearance of Sip Me's original look. It fittingly marks a new chapter for Night. And regulars can still expect to find a cozy interior with beverages spanning high-quality third-wave coffees, herbal lattes, cold-pressed juices and locally crafted kombucha. And at Vida by Sip Me, it's all poured with passion.
Of course, customers can still order the café's famous cinnamon rolls—but get there early before they're all gone. Fortunately, Vida by Sip Me is also stocked with a daily assortment of fresh pastries, too. The café partnered with a local baker who specializes in gluten-free and vegan treats. "She's so passionate about what she does. We're honored to fill our case with her goodies," says Night, who recommends the maple doughnuts and lemon tangerine pound cake.
Although the news of losing her old lease was crushing, and reopening a business doesn't come without obstacles, Night says she believes everything happens for a reason. "We're so grateful for the community that rallied behind us," she says. "And this is home for anyone who needs it, and a community for anyone who needs it."
3671 Baldwin Ave., Makawao. For more information, visit vidabysipmemaui.com or @sipmemaui.