Your Guide to Kaimukī on Oʻahu
This hidden gem just outside of Waikīkī has cute boutiques, popular restaurants and the biggest farmers market on the island.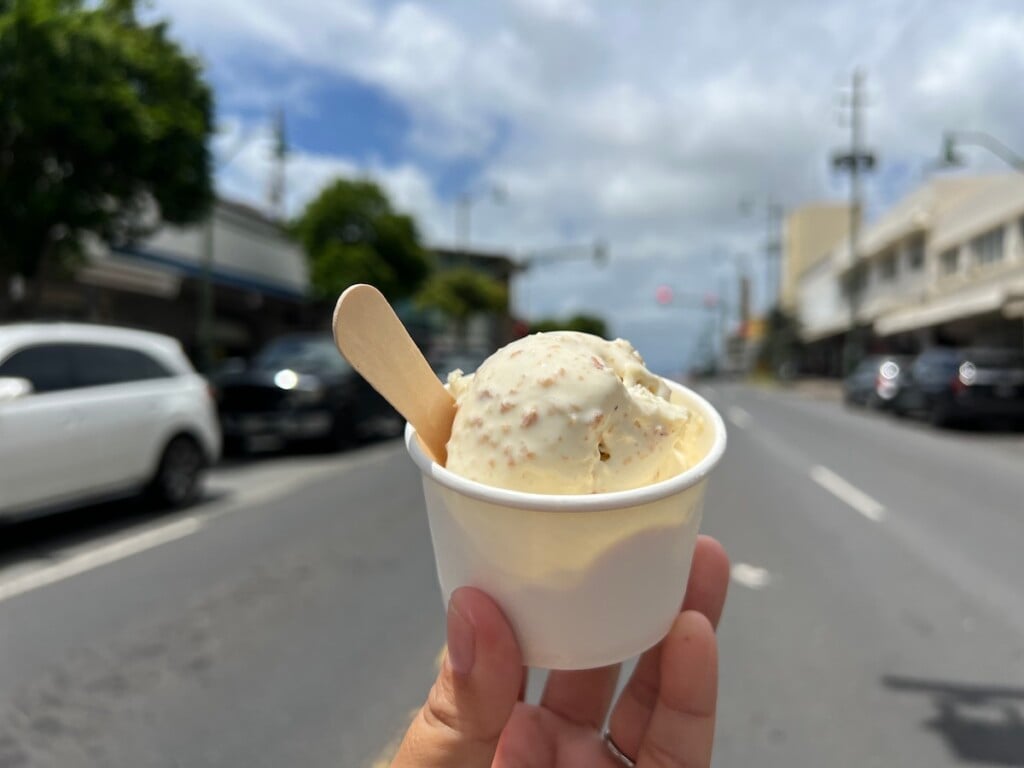 About a few miles outside of Waikīkī is the charming town of Kaimukī. One of the oldest communities on Oʻahu, Kaimukī (pronounced ky-moo-kee) was once the site of King Kalākaua's ostrich farm. The first road paved here was Waiʻalae Avenue—still the main thoroughfare—in 1925. It's now a bustling little town with some of Oʻahu's best restaurants, bakeries, coffee shops and boutiques. And somehow it has still managed to retain its historical charm. (Though there aren't any ostriches anymore!) Here are some must-not-miss things to do in Kaimukī.
Kaimukī Crack Seed Store
Crack seed—really, preserved fruits—is a beloved snack in Hawaiʻi. But there aren't as many of these shops anymore. Kaimukī Crack Seed Store has been around for over four decades, selling li hing mui, dried lemon peel, licorice plum, shredded mango and other favorites in large glass jars. Another popular item: strawberry Icee slush with a dusting of li hing powder.
Pua Hana
Pua Hana is a tiny flower shop tucked away on Waiʻalae Avenue. Its shelves and fridge are stocked with fresh flowers, lei and arrangements, many of which are locally sourced.
KCC Farmers Market
The largest of all the farmers markets on Oʻahu, the KCC Farmers Market boasts dozens of vendors selling everything from fresh produce to local honey to Big Island-grown abalone. Everything sold here—jams, coffee, cut flowers, veggies, sausages—are locally grown or produced, or use local ingredients. That's a requirement by the Hawaiʻi Farm Bureau Federation, which operates this Saturday morning market.
Via Gelato
Get a scoop—or two!—of the small-batch, artisanal gelato from Via Gelato. The menu features more than a dozen bold and fun flavors (including plant-based options), which rotate often. Some of the most recent offerings include lychee, cinnamon toast crunch, pickled mango, cookie butter and Okinawan sweet potato. Waffle cones are housemade, too.
Red Pineapple
Looking for a unique, made-in-Hawaiʻi gift to take home—or maybe just for you? Red Pineapple is packed with the coolest, cutest local products, from soaps to chocolate to canvas bags. There's even a nice keiki section, too, with books, games and clothing.
Koko Head Café
Love brunch? Then you can't miss Koko Head Café, one of the most popular brunch spots on Oʻahu. Helmed by "Top Chef" alum Lee Anne Wong, this spot, which moved a couple of years ago to a larger space on 12th Avenue, specializes in innovative twists on brunch classics. Popular items include the cornflake French toast, breakfast congee, miso-smoked pork omelet and the Koko Moko, Wong's spin on the loco moco with savory mushroom gravy, tempura kim chee and crispy garlic rice. (Wong heads up Papaʻaina on Maui in the Best Western Pioneer Inn, one of Hawaiʻi's oldest hotels.)
Puʻu Lanipō Trail and Mauʻumae Nature Park
At the top of Maunalani Heights, overlooking Kaimukī, is the trailhead to Puʻu Lanipō, a roughly 7-mile trek the snakes to the top of the Koʻolau Mountains. It's a challenging hike that will likely take you half a day. If you're looking for something a little easier, consider the Mauʻumae Nature Park, a 33-acre dryland restoration park in upper Kaimukī. The trailhead is located where 16th Avenue intersects with Paula Drive. It's an easy 1-mile loop trail with nice views. Just bring lots of water; it gets hot.
Ten Tomorrow
Hidden in Kaimukī in what looks like someone's house, Ten Tomorrow is modern resort line by Summer Shiigi designed and manufactured entirely in Hawaiʻi. The clothing is effortlessly chic and comfortable—great for the office or Sunday brunch. The showroom also features locally crafted jewelry and other accessories. Recently, it added a tea shop, The Daily Whisk Matcha, which serves classic matcha lattes and a variety of small savory dishes and fresh fruit Japanese-style sandos.
Pipeline Bakeshop & Creamery
Pipeline Bakeshop & Creamery is known for its fluffy, made-to-order malasadas—rivals to Leonard's Bakery—but that's not the only reason to venture into this Kaimukī bakery. It also serves tasty cake bombs (mini bundt cakes), giant cookies and small-batch, scratch-made ice creams. Unique to Pipeline is its Malafrozada—literally malasada ice cream. Seriously.
Diamond Head State Monument
The 1.8-mile trek to the top of Lēʻahi, commonly known as Diamond Head, is one of the most popular hikes in the state. Listed as a National Natural Landmark, the park experienced a record-breaking 6,000 visitors in one day during the winter of 2019. To control overcrowding, the state now requires advanced reservations for out-of-state visitors. Residents of Hawaiʻi can continue to access the park without reservations, but entry will be dependent on parking availability. It's a fun, fairly easy hike, and the panoramic views of the island's southern coastline are breathtaking.
Chocolate + Vanilla Bakery
View this post on Instagram
If you're looking for a unique dessert—either to take back to the hotel or eat on the way—stop by Chocolate + Vanilla Bakery on 12th Avenue. Its menu features a variety of butter mochi, scones, mini cupcakes, brownies, bread pudding squares and other hand-held baked goodies. It also serves soft serve, sandwiches (on weekends) and coffee jelly drinks.
Da Shop: Books + Curiosities
One of only a few indie bookstores on Oʻahu, Da Shop is a great place to grab a book about Hawaiʻi or written by a local author. It boasts a great cookbook selection and keiki books, too. The staff is super helpful.
Breadshop
View this post on Instagram
If you're in the mood for carbs, stop by the Breadshop, a tiny bakery that specializes in freshly baked artisan breads made completely by hand. The breads—brown sourdough, ciabatta, focaccia, brioche—are only sold the day they're made, and you should reserve your order ahead of time.
The Public Pet
View this post on Instagram
Animal lovers, hit up The Public Pet, an urban pet supply boutique that sells a mix of supplies, accessories, toys and food products for dogs and cats. Much of what they offer is locally made, too. Dogs on leashes welcome.
We Heart Cake Co.
About three years ago, We Heart Cake Co., a charming cake boutique opened on Waiʻalae Avenue and dazzled dessert lovers with its perfectly frosted cupcakes and detailed decorated cookies. The baked goods are almost too gorgeous to eat. Almost. Popular items include the Very Strawberry and red velvet cupcakes—though I'm partial to the lemon one—and seasonal decorated sugar cookies. But everything in here, from cake pops to macarons, are equisite and delicious.