6 Tips For Traveling to Hawaiʻi Right Now
This advice will help you plan a stress-free vacation to the Islands.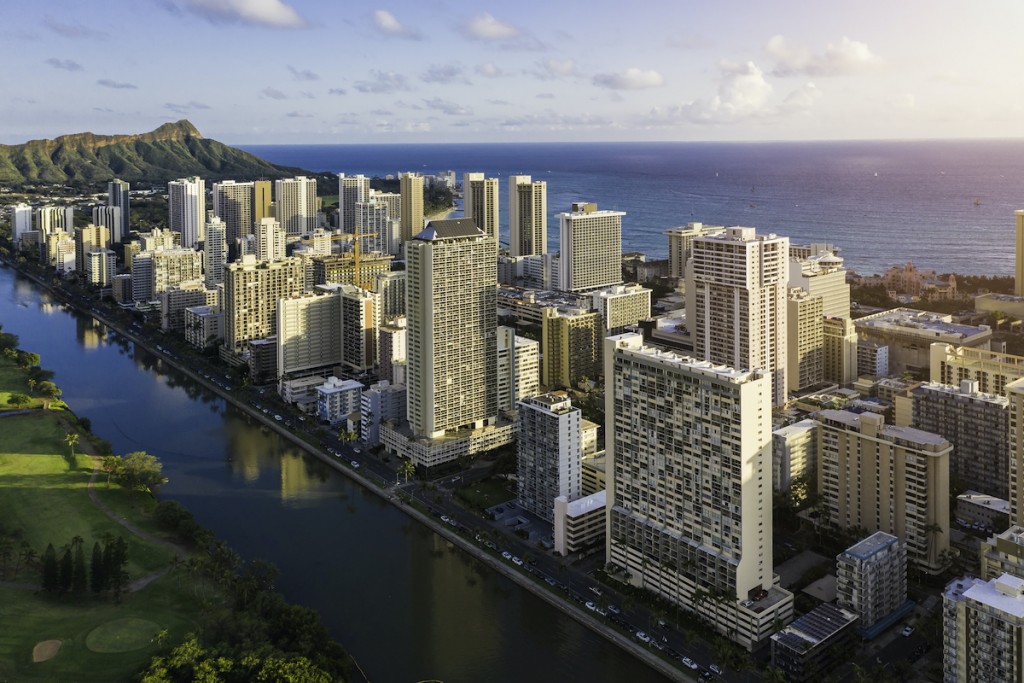 The recent surge in new COVID-19 cases in the U.S.—spurred by the highly contagious delta variant—is concerning for travelers, even those flying to the Islands, where daily numbers are at all-time highs. On Tuesday the state reported 389 new confirmed and probable infections statewide. Hawaiʻi has reported triple-digit cases for two weeks, peaking at 622 on Friday.
This spike comes on the heels of a summer that saw near-pre-pandemic levels of visitors. According to the Hawaiʻi Tourism Authority, more than 2.7 million people arrived in the Islands in the first half of 2021, up 27.6% compared to the first half of 2020. In June alone, 791,053 visitors flew to Hawaiʻi from the U.S.
And while that's great news for the state's tourism industry, which came to a standstill during the pandemic, the onslaught of visitors to a place still dealing with COVID-19 cases and struggling with striking the right balance between reopening and keeping the community safe has created a unique set of challenges.
There are new procedures for visiting popular attractions, rules about mask-wearing, new protocols at hotels, long waits at busy restaurants and a shortage of rental cars.
Here are some tips for anyone planning to visit the Islands this year. And fair warning: Things change all the time.
1. Travel Rules Change Often, So Check Often
Since July 8, 2021, people who are fully vaccinated in the U.S. or its territories can enter Hawaiʻi on domestic flights without pre-travel testing or having to quarantine starting the 15th day after the completion of their vaccination. All other travelers must have their negative COVID-19 test results from a trusted testing and travel partner uploaded to the state's Safe Travels Program portal prior to departing to avoid Hawaiʻi's mandatory 10-day quarantine.
Once in the Islands, you can travel freely between islands without restriction.
There is no indication right now that these travel rules will change—the plan is still to lift all travel restrictions when the state hits hits a 70% overall vaccination rate. But check the state's COVID-19 site often to get updates.
2. Plan Ahead, Like, For Real
If you're one of those travelers who likes to "discover" a destination when you arrive, you'll likely miss out.
A lot of tours, shows and visitor attractions now require—or highly recommend—advanced reservations. Hanauma Bay on Oʻahu launched an online reservation system and raised rates to $25 per person (non-resident). The limited slots sell out within 5 minutes of going live every day. Hāʻena State Park on Kauaʻi, which includes access to Kēʻē Beach and the Kalalau Trail, also requires reservations, found here. Like Hanauma Bay, the park has a daily visitor limit with new park fees.
Even Polynesian Cultural Center in Lāʻie on Oʻahu has seen a surge of visitors this summer; its popular VIP lūʻau package is sold out through November 2021.
You can still try and get day-of tickets, but it may require you to be more flexible with days and times available.
Check with tours, shows and other attractions before you arrive and book tickets in advance.
This is also true for rental cars. The shortage is no joke. Book ahead. You don't want to be stuck in Hawaiʻi and only able to explore as far as you can walk.
3. Make Reservations at Your Favorite Restaurant Before You Arrive
Hawaiʻi restaurants are dealing with employee shortages—which translates to shorter hours and, sometimes, longer wait times—and government rules that aren't allowing restaurants to run at full capacity. So expect longer wait times, smaller menus and, in some cases, no availability when you're in town.
If you love a certain restaurant or dying to try a new one that recently opened, make reservations in advance. If you don't, you will end up grabbing food at conveneince stores—yes, it's happening!—and wishing you heeded our advice.
While it may seem tempting—even smart—to book several reservations for a single day and pick which one you want when you get here and just not show up to the other restaurants, these no-shows are costly to already-struggling restaurants. Call and cancel ahead of time. No-shows may cause eateries to change their policies, like asking for a deposit or slapping no-shows with cancellation fees.
4. Don't Rely on Old Guide Books
You got an old Hawaiʻi travel guide laying around? Leave it there.
So much of what you'll find in a guidebook will be outdated, especially now. Many restaurants and retailers have closed, changed hours or even moved since the pandemic. And new ones have opened, too. Best to check the Internet or social media—or visit our website often!—to find out what's new, what's still open and what you should do while in Hawaiʻi.
5. Shop Local
Small business in the Islands could use your support, especially now. Seek out local retailers—many of whom craft one-of-a-kind items—to find gifts or souvenirs. Bring home handcrafted lauhala hats from Hana Hou in Hilo or crispy beef jerky from Snack Addicted on Oʻahu.
Some shops had to pivot because of COVID-19, too, and are now offering new products. For example, Mānoa Honey & Mead in Wahiawā on Oʻahu started using its honey to make mead during the pandemic.
6. Be Respectful, Polite and Follow the Rules
We know you're on vacation. We've all been stuck at home for months, worried, scared, tired, desperate for a change, desperate to feel "normal" again. But it's important to remember that Hawaiʻi may be a visitor destination, but it's first and foremost our home.
Wear your mask indoors. Don't trash the place. Hike on public trails. Respect sacred places. Imagine what you would want strangers doing in your backyard.
Be nice to hotel staff, restaurant workers, car rental agents (especially them; it's not their fault) and anyone you encounter. It's been hard for a lot of people—and likely the folks you meet on your trip wish they were on vacation, too.
The best advice we can give you is to always leave a place better than when you arrive. That encompasses any act of kindness, from volunteering while on vacation to picking up trash when you see it to even thanking a lifeguard when you leave the beach.
A little bit of kindness goes a long way.