Your 10 Most Frequently Asked Hawaiʻi Questions, Answered
If you're wondering when the best time to visit Hawaiʻi is, or if it's hard to move here, you've come to the right place.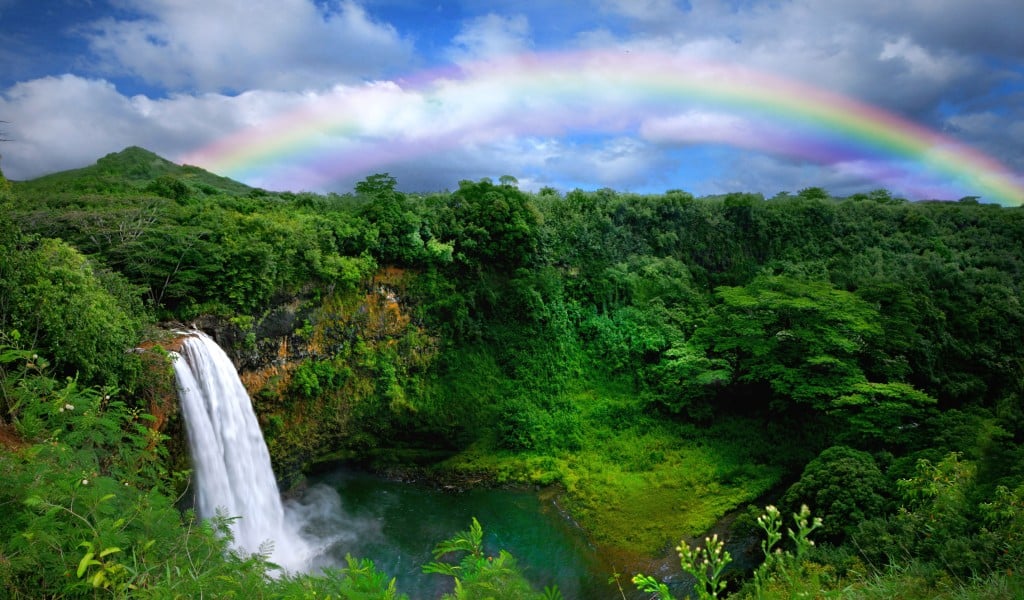 Here at HAWAIʻI Magazine, we get asked a lot of questions about the Islands—and we love that! It is our mission to help educate the public about Hawaiʻi, and we take pride in being a resource for those looking to learn more about our home. However, some questions get asked more than others—like, way more—so we've decided to put together this list of our Top 10 frequently asked questions—with answers. We also do a weekly Ask Hawaiʻi feature on our Instagram account (@hawaiimagazine), where we take commented questions and answer them to the best of our abilities, so be sure to check that out as well.
1. When is the best time to come to Hawaiʻi?
The answer to this question is really up to the individual as there is no overall "best" time to come to Hawaiʻi. While the Islands sport an abundance of sunshine, tropical temperatures—rarely below 65 degrees Fahrenheit—and that warm feeling of aloha all year long, Hawaiʻi does actually have four distinct seasons with pros and cons that may fit the needs of different types of travelers. If you're looking to avoid the crowds and pay a little less, then spring and fall should be your target seasons, but be sure to avoid the spring break timeframe. Summer in the Islands is Hawaiʻi at its most perfect, and its most crowded, so if you love getting lost in a crowd or meeting new people, then June, July and August are for you. Winter in Hawaiʻi means a tropical Christmas, a truly unique experience, and surfers will love the large north swells that envelope the Islands' northern coastlines during this season.
2. What is the best island to visit?
Again, this topic is highly subjective and hotly debated. Each island is amazing in its own right—and each has a personality and charm that may appeal more to certain travelers. For a truly laidback Hawaiʻi vacation, Hawaiʻi Island is hard to beat, with its rustic country charm, spread out communities and authentic sense of aloha. Kauaʻi and Maui are both moderately busy with travelers and feature more attractions and shops compared to the Big Island. Kauaʻi is great for folks who are looking to spend time in nature and unwind, while Maui has more bustling arts and food scenes. Oʻahu is is the busiest—read: lots of things to do—of all the islands. It boasts most in terms of visitor attractions, public hiking trails, hotels, restaurants and museums. And if you really want to getaway? Think Molokaʻi or Lānaʻi, where old Hawaiʻi can still be found.
3. How hard is it to move to Hawaiʻi?
It's not easy—but not impossible. Living in Hawaiʻi is very expensive—rent is higher than the national average, gas isn't cheap and the price of groceries is no joke—but if you have a tidy sum saved up, and can acquire a job soon after moving, then you'll be able to manage. Having a dual-income household helps with costs. Don}t expect to be paid as much in salary as you would on the Mainland—Hawaiʻi workers get paid less than those in other high-cost-of-living states like California or New York. Living in Hawaiʻi is like living in paradise, you've just got to be aware of the cost.
4. Do I need a passport to travel to Hawaiʻi?
Not at all! Hawaiʻi became a state in 1959, so unless you're planning to travel internationally from Hawaiʻi, you won't be needing a passport.
5. How long is the flight to Hawaiʻi?
Located in the middle of the Pacific, traveling from anywhere in the world to Hawaiʻi will require some time (and you'll need to hop on a plane). Visitors leaving out of popular U.S. gateway cities like Los Angeles, Seattle and San Francisco can expect a flight time of five to six hours. From New York on a nonstop flight to Honolulu will take 10 to 11 hours. International travelers from Munich, Germany will spend 20 hours of travel time to get here, London around 17 hours and Tokyo about seven and a half hours.
6. What should I pack?
When you're planning a trip to Hawaiʻi, there's a lot of excitement going on. And oftentimes, while you're setting up hotels, activities and itineraries, it's easy to not focus on the less obvious items you need to bring on your trip. So before you head to the airport, check your baggage and make sure you've got at least a towel or two, reef-safe sunscreen, slippers—or flip flops—a sturdy beach bag, a jacket for those randomly rainy days, or high altitude attractions like Haleakalā, formal attire, a couple of pairs of bikinis or boardshorts and the easily forgotten basics like toothbrushes, razors and your favorite pants for when you've eaten too much.
7. Why are the highways on Oʻahu called interstate when they don't go between states?
It all comes down to funding. For the highways to be built, they needed to be classified as "interstate" highways which President Dwight Eisenhower made possible by signing the Hawaiʻi Omnibus Act in 1960, which removed the limitation that the Interstate System be designated only within the continental United States. And Hawaiʻi's highways are technically interstate since a defining feature of an interstate highway is that they connect military bases with each other—and Oʻahu's roads do just that. They've also been built to interstate standards, meaning they can support the weight of large military vehicles and machinery.
8. Where can I see turtles?
If there's one animal in Hawaiʻi that embodies the Islands' laidback and relaxed attitude, it's the honu (Hawaiian green sea turtle). This is probably why visitors love them so much, and always want to know where they can get a peek of these magnificently chilled-out dudes. So where do you go? Laniakea Beach on Oʻahu is the premier spot to see turtles in Hawaiʻi; it's where many lounge and eat seaweed on the island's North Shore. You can also check out Maluaka Beach on Maui—appropriately nicknamed Turtle Town—and Brennecke's Beach on Kauaʻi. Regardless of where you see turtles in Hawaiʻi, make sure that you do not touch a turtle ever. If you even get close to a turtle—within 5 feet—you can be subject to a hefty fine and possible jail time.
9. How do you find a waterfall in Hawaiʻi?
Gazing up at a flowing waterfall cascading down a verdant cliff can be a magical experience, so it's no wonder visitors are always seeking out waterfalls in Hawaiʻi. So what's your best bet for seeing a waterfall? Well, there are plenty of hikes and trails across all islands that end with a magnificent waterfall view, such as Mānoa Falls on Oʻahu, Hanakāpiʻai Falls on Kauaʻi, Twin Falls on Maui and ʻAkaka Falls on the Big Island. If you don't feel up for a whole hike, there are certain falls, like Rainbow Falls in Hilo, which can be easily accessed by car.
10. Where is the best place for snorkeling in Hawaiʻi?
Hawaiʻi is known for its premier snorkeling locales—but what would we consider the best? Well, Electric Beach and Hanauma Bay on Oʻahu are definitely at the top of many snorkelers' lists, and Tunnels Beach on Kauaʻi is a must-see. If you don't mind a brief boat ride, Molokini Crater off the coast of Maui has incredible underwater sights, and Kealakekua Bay on the Big Island is filled with history and brightly colored fish.