The 6 Best Islands in Hawaiʻi in 2021
Here's a ranked list of the best Hawaiian Islands to visit, according to our 2021 Readers' Choice Awards.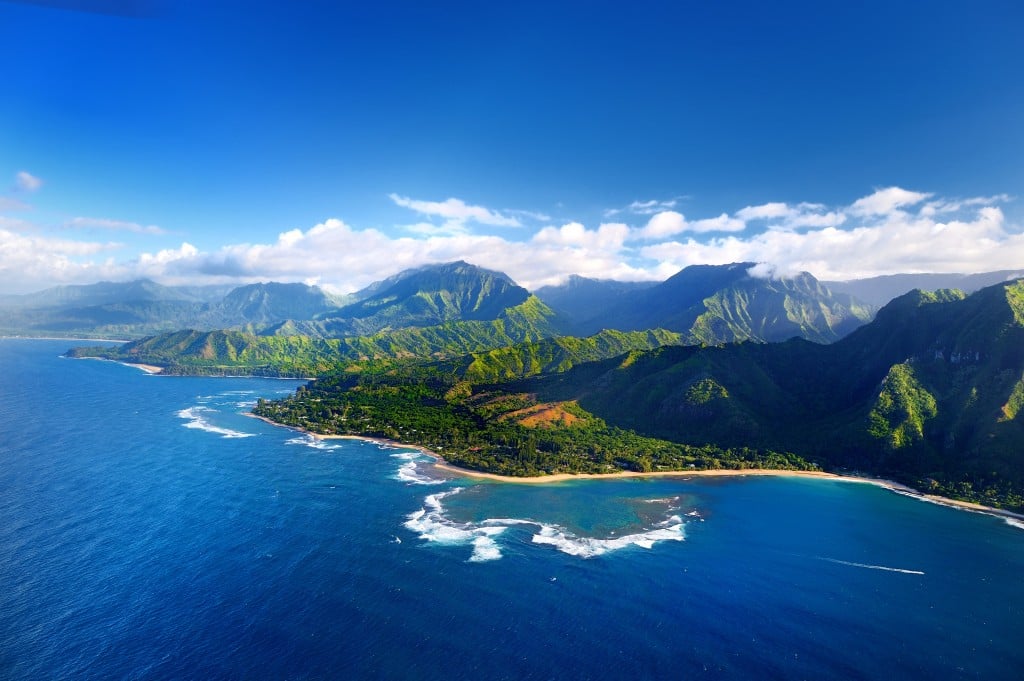 It's the list you've all been waiting all year for. The votes are in, and the results are below. Hawaiʻi's Top 6 islands, ranked from "best" to "still really amazing" by our readers. It's not like you can go wrong traveling to any of these islands, but for curiosity's sake, here are the results!
1. Kauaʻi
Back at the top of the list for its second year in a row, Kauaʻi continues to stun visitors with its dynamic coastlines, luscious forests and verdant valleys. The Garden Isle shines most in its outdoor pleasures—from riding horseback through a 300-acre ranch to farm tours through a family-run organic nursery in Kīlauea. Of course, who can forget about Hāʻena State Park. Although it has reopened with a new reservation system that limits the number of daily visitors the park receives, a hike along the Nāpali Coast is worth the price of admission.
Another reason why Kauaʻi reigns supreme is its overall sense of country charm. From the island's North Shore towns like Hanalei to Poʻipū, located on the seemingly always sunny southern side of Kauaʻi, visitors will always feel that authentic local Hawaiʻi charm wherever they go. And from haku lei-making classes to newly painted murals in Downtown Līhuʻe, there's always a sense of culture and Hawaiʻi pride from all of the island's residents and businesses.
2. Maui
Once a perennial winner of this category, Maui has falled to the No. 2 position—although the island remains just as stunning. The natural wonders, like ʻĪao Needle and Haleakalā, are just as awe-inspiring. The farmers markets are just as charming and the whale-watching tours are just as majestic. Of course, the districts and towns of Maui are also hard to beat, and names like Lahaina, Wailuku and Pāʻia will undoubtedly hold a place in your memories after your visit. So don't let that little "2." fool you; for many, Maui is still No. 1 in their hearts.
3. Oʻahu
There's never a dull moment on Oʻahu. Accommodating for every kind of traveler, adventure junkies will love Oʻahu's panoramic hikes and botanical gardens. Foodies will want to visit with their appetite raring to go, as the island is home to hidden gems worth finding, brunch spots worth skipping breakfast for and new diners and restaurants that open on a near-weekly basis. Of course, who can forget the postcard-perfect beaches? Lanikai Beach, Kailua Beach, Sunset Beach, Waimānalo Beach, Sandy Beach. The list goes on and on—and on.
4. Hawaiʻi Island
Hawaiʻi Island, often referred to as the Big Island, has had an interesting year. There was a new eruption at Kīlauea, the island's most active volcano, and it was a true spectacle. It is also the first lava flow Hawaiʻi Island has had since the destructive eruptions of 2018, and the soft orange glow emitted by the now-present lava lake is a welcome sight. While the eruption made headlines across the state, Hawaiʻi Island is really unique in that some of its best attractions, eateries and activities are very much under the radar. From a whole-animal butchery in Waimea to a tidepool-filled beach park with the only horseshoe court in Hawaiʻi, the Big Island will surprise the curious visitor at every corner.
5. Molokaʻi
There's getting away from it all, and then there's going to Molokaʻi, where there are zero traffic lights and, surprisingly, a few great places to get breakfast, lunch and dinner. The island itself is great for hikers, and Hālawa Valley, on Molokaʻi's east side, will drop jaws with its ruggedly handsome views. If beaches are more your calling, Pāpōhaku Beach is among Molokaʻi's biggest, at 3 miles long and 100 yards wide.
6. Lānaʻi
Lānaʻi gives visitors a level of solitude and Island-style living that's a step above the other islands, sans Molokaʻi. If you're looking to shift out of the fast lane and unwind, little Lānaʻi's got your back. Although accommodation options are slim, the Four Seasons Resort Lānaʻi, recently named the No. 1 hotel in the nation by U.S. News, offers luxurious suites, while Hotel Lānaʻi in Lānaʻi City provides a more down to earth bed-and-breakfast appeal that matches the island's general attitude. Grab a bite at the homey Blue Ginger Café and set out to explore Lānaʻi's many seaside cliffs and cultural sites.