10 Tasty Hawaiʻi Foods to Try for Under $10
From a loco moco in Hilo to mochi doughnuts in Honolulu, you can score local classics and rising favorites for just a few bucks.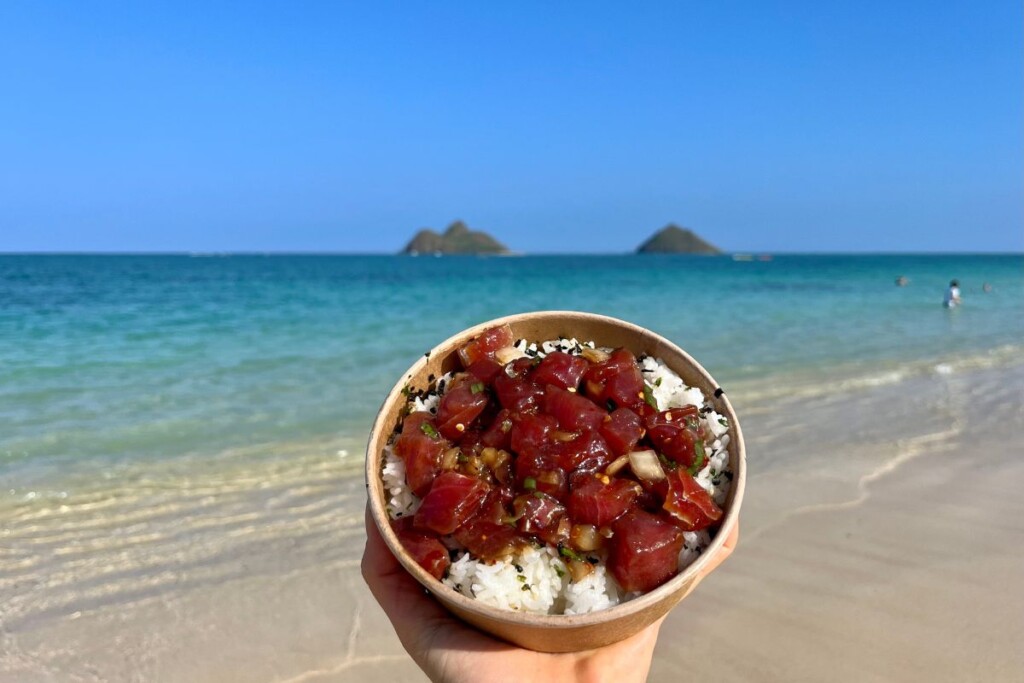 Hawaiʻi's culinary scene is one of a kind and robust. Here, you'll find decades-old mom and pop restaurants with servers who know customers' names and food trucks along the highway that serve some of the freshest seafood around. And one of the sweetest parts of the local food scene? You don't have to spend more than a few dollars to eat well. From local specialties to creative spins, bookmark these spots for scrumptious foods you can enjoy for less than $10.
1. Loco moco from Café 100 ($8.50)
Take white rice, top it with a hamburger patty and sunny eggs and smother it all in brown gravy and you have the loco moco. It's a humble dish and one of the most iconic in Hawaiʻi. The quiet town of Hilo on Hawaiʻi Island is considered the birthplace of the dish and Café 100, an old-school eatery and Hilo fixture since 1949, calls itself the "home of the loco moco." Café 100 is famous for offering more than a dozen varieties of loco moco, from plates with Spam and bacon to a meatless version. At Café 100 the enormous loco moco plates start at $8.50 and also come with mac salad.
969 Kīlauea Ave., Hilo, Hawaiʻi Island, cafe100.com.
2. Poke bowl from Foodland ($7.49)
Poke (pronounced poh-kay) can be found in trendy eateries across the U.S., but when you're craving the best and freshest, there's no place like Hawaiʻi. Ancient Hawaiians feasted on freshly caught fish, usually ʻahi (tuna), seasoned with sea salt and seaweed, and eaten raw. Today, poke remains an integral dish here, prepared in a variety of styles and served with flavorful sauces and garnishes. While poke shops are ubiquitous across the Islands, locals and visitors often flock to Foodland for the dish. The locally owned grocery retailer offers an extensive variety of poke. Along with classic ʻahi, customers can pick up other versions including tofu and tako. And the poke bowls are a steal. Around the Islands, poke bowls are often priced over $10. At Foodland you can score a large bowl filled with rice and your choice of poke starting at just $7.49.
Multiple locations across the Islands, foodland.com.
3. Fish katsu musubi from Musubistro ($8)
In a small white trailer along Kamehameha Highway on Oʻahu's North Shore, you'll find some of the freshest and most flavorful musubi on the island. The owners of Musubistro work with local fishermen to gather ingredients right from the sea to create their signature fish katsu musubi. Here, the musubi comes with a cut of flaky fish, which is glazed in succulent chipotle aioli and unagi sauce, stacked on a bed of rice and neatly wrapped with a sliver of seaweed. It's as mouthwatering as it sounds. The food truck is only open on the weekends from 10 a.m. until it sells out. Pro tip: Stop by early.
For more information, visit @musubistro_.
4. Boozy shave ice from
Break Wall
Shave Ice ($6)
On Lahaina's famed Front Street, Break Wall Shave Ice Co. takes Hawaiʻi's quintessential treat to another level. At this shave ice joint, you can order piña colada and strawberry guava daiquiri—and not just as syrup flavors. A healthy serving of rum is really in the piña colada and daiquiri, and tequila adds a punch to the mango margarita. Prices start at $9.25 for one of these icy cocktails but during happy hour, which runs from 2-5 p.m. every day, it's just $6.
658 Front St., Lahaina, dthmaui.com/breakwall-shave-ice-company.
5. Saimin from Shige's Saimin Stand ($7.75)
Saimin is not to be confused with ramen. Pronounced "sigh-min," this hearty noodle dish is only found in the Islands. Like many local specialties, it's a product of Hawaiʻi's plantation era, when workers from various ethnic camps traded traditional recipes and ingredients, eventually creating their own unique cuisines. For many locals, saimin is the ultimate comfort dish. A satisfying bowl is served with chewy, curly noodles in a hot dashi, or broth, usually made from shrimp, mushrooms, ginger and kombu (dried kelp). Floating at the top of the broth are garnishes like char siu, Spam, egg, green onions and kamaboko (fish cake).
On Oʻahu, Shige's Saimin Stand, one of the last remaining old-school saimin shops on the island, has stood the test of time. If you're driving through Wahiawā to the North Shore, make sure to stop at Shige's for a bowl of saimin. A small bowl of these noodles—made fresh at the shop—is just $7.75.
70 Kūkui St., Wahiawā, facebook.com/ShigesSaimin.
6. Banana Bread from Aunty Sandy's ($8)
Along with jaw-dropping vistas and cascading waterfalls, there's another place you should bookmark on Maui's famous road to Hāna: Aunty Sandy's.
The charming farmstand on the Keʻanae Peninsula is synonymous with banana bread. Here, the sweet loaves are made throughout the day so they're uber fresh when served—sometimes still hot. And the soft, buttery bread is so moist, it melts in your mouth. This banana bread is so delicious, Gordan Ramsay ventured down the Hāna Highway to see how it's made.
210 Keʻanae Road, Keʻanae, auntysandys.com.
7. Mochi doughnuts from Aloha Donut Co. ($3)
What do you get when American doughnuts meet Japanese mochi? A light, slightly chewy, entirely delicious pastry. And you can get your fill of mochi doughnuts at Aloha Donut Co. in Honolulu. The small shop has nailed the texture of its pastries, with doughnuts that are soft and chewy and glazed with an icing that's not excessively sweet. Aloha Donut Co.'s rotating menu features fun flavors like lilikoʻi, taro milk tea and lychee. For just $3 you can enjoy one of these sweet treats. If you end up a mochi doughnut convert, it's $16.50 for half a dozen and $30 for a dozen.
1742 S. King St., Honolulu, @alohadonutcohnl.
8. Sour beer from Mahalo Aleworks ($8)
Mahalo Aleworks has quickly become a Valley Isle favorite. One reason is that the taproom is perched on the slopes of Haleakalā, with stellar views of the island. It's a perfect place to share a beer with friends. The second: The locally brewed beer is truly one of a kind. Inspired by the Islands' biodiversity, Mahalo Aleworks incorporates foraged ingredients grown on Maui to create beers that can't be replicated anywhere else in the world. The main focus for the brewery is its sour beers, where the flavors of fresh ingredients come through. The sour beers are made with locally grown fruit, producing a subtly sweet and tart taste. You can try a few samples at the taproom and grab a glass for $8.
30 Kūpaoa St., Unit 101, Makawao, mahaloaleworks.com.
9. Sandwich from Andy's Sandwiches and Smoothies ($6.99)
Before hitting the trail to Mānoa Falls, stop by Andy's Sandwiches and Smoothies. The unassuming sandwich shop in Mānoa serves hearty sandwiches on homemade, whole-wheat bread. From an avocado, tomato and cucumber for $7.50 to an eggplant melt for $9.99, there's a sando that will satisfy every eater—and please every budget. Andy's also offers an extensive array of smoothies that are all under $10.
2904 E. Mānoa Road, andyssandwiches.com.
10. Montreal-style bagels from Empty Elles ($7.50)
You don't need to travel all the way to Canada to enjoy Montreal-style bagels. Just head over to Empty Elle Bagels in Kailua, Oʻahu. These wood-fired bagels are hand rolled and honey boiled, which makes them sweeter and denser than their New York cousins. The Lemon bagel is a popular choice, featuring black raspberry jam and Big Island lemon butter on an open-face bagel.
143 Hekili St., Kailua, emptyellebagels.com.