The 5 Best Towns in Hawaiʻi in 2023
From historic surf towns to vibrant art districts, the Islands are home to an eclectic mix of neighborhoods. These are the top towns to visit in Hawaiʻi, according to this year's Readers' Choice Awards.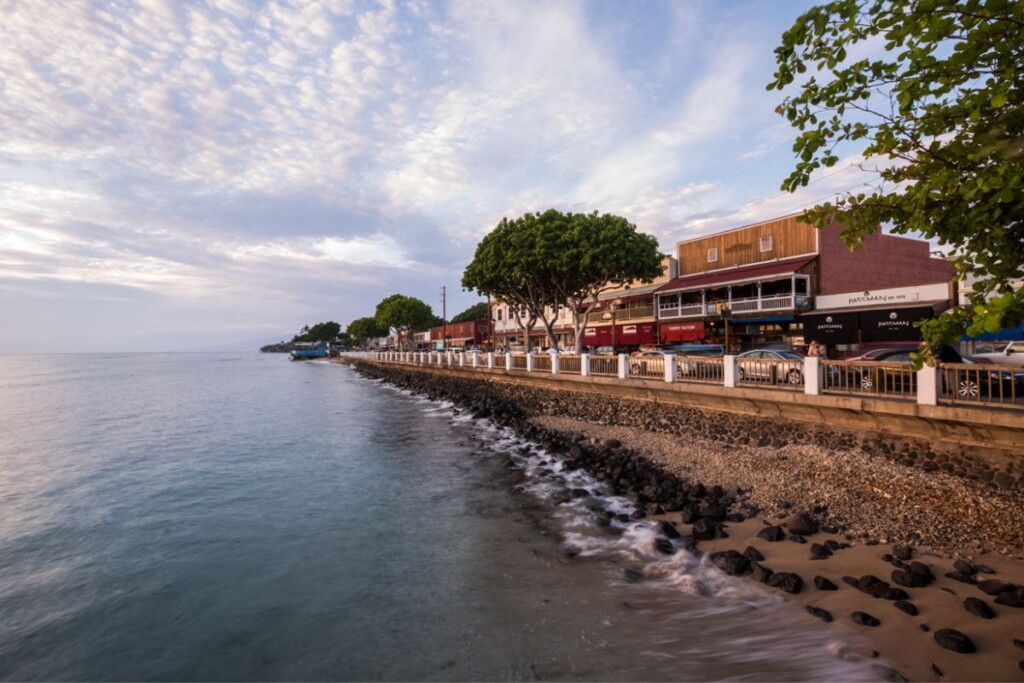 Towns across the Islands are filled with their own quirky personalities. Near the coast, visitors can spend an afternoon exploring a laid-back beach town lined with surf shops, vegan cafés and yoga studios. Head to a downtown district and the vibe changes. There you'll find trendy boutiques and hip bars, old-school eateries and historic landmarks. So, it's no surprise that visitors to Hawaiʻi might end up falling in love with a particular town—or two. Lahaina is a standout, topping our Best Towns in Hawaiʻi list once again. Situated on Maui's west side, the place lures travelers with popular oceanfront restaurants, exciting street parties and a fascinating history. Here are the top five towns to visit in Hawaiʻi, according to HAWAIʻI Magazine readers.
1. Lahaina, Maui
With its top-notch restaurants, family-friendly activities and rich history, this Maui district is always a top contender among our readers. Foodies can experience an exquisite farm-to-table brunch at chef Lee Anne Wong's Papaʻaina, find boozy shave ice at Breakwall Shave Ice and slurp on satisfying noodles at Star Noodle—all on the town's famed Front Street. On the outskirts of town, visitors can discover how cacao goes from bean to chocolate at Maui Kuʻia Estate Chocolate or take an educational tour at Hawaiʻi's only coconut farm, Punakea Palms. And in between dining, shopping and farm excursions, travelers can learn about the town's intriguing past. In the 1800s, Lahaina was a whaling industry hub, and from 1820 to 1845, it was the capital of the Kingdom of Hawaiʻi. Here, visitors will find plenty of spots to explore, places to eat and history to learn.
2. Hanalei, Kauaʻi
Defined by its emerald mountains, dreamy beaches and timeless beauty, Hanalei is a gem on Kauaʻi's north shore. Crossing the one-lane bridge into town is like stepping back in time. Kūhiō Highway is the main road running through Hanalei; it takes drivers past verdant fields of kalo (taro), clusters of popular food trucks, the family-run Ching Young Village Shopping Center and the Hanalei Valley Lookout. One of Hanalei's main draws is its stunning beaches. Mākua Beach, also known as Tunnels, earned its nickname for its labyrinth of underwater lava tubes. Here, snorkelers can glide over coral formations and watch colorful marine life swim by. Travelers can even venture to the literal "end of the road"—the cliffs of Nāpali prevent the road from going all the way around the island—to marvel at the views of the Nāpali Coast from Kēʻē Beach. After spending the day in Hanalei, the historic Hanalei Pier is an idyllic place to enjoy a brilliant sunset.
3. Honolulu, Oʻahu
As the state's capital city, Honolulu is the lively cosmopolitan hub of the Islands. From Makapuʻu Point in the east to Pearl Harbor out west, travelers can find everything from historic landmarks and art museums to fine dining establishments and hole-in-the-wall businesses. Honolulu is also home to some of O'ahu's most well-known beaches and hiking trails. The area encompasses the ever-popular Waikīkī Beach, Hanauma Bay, Ala Moana Beach Park, Mānoa Falls Trail, Diamond Head State Monument, Makapuʻu Lighthouse Trail and so much more.
4. Kailua-Kona, Hawaiʻi Island
This sunny district and vacation hot spot on the western side of Hawaiʻi Island lures visitors with its black-sand beaches, luxury resorts and of course, award-winning coffee farms. Along the town's main business strip, Aliʻi Drive, visitors can learn some history at Huliheʻe Palace, check out parts of the Ironman World Championship route, eat at restaurants overlooking Kailua Bay and grab a refreshing treat at Scandinavian Shave Ice. Wildlife enthusiasts and adventure seekers can add a night dive with manta rays to their itineraries, and coffee connoisseurs can climb to the cooler slopes of Hōlualoa to sample 100% Kona coffee.
5. Poʻipū, Kauaʻi
Nestled on the southern shores of Kauaʻi, Poʻipū is a favorite among travelers for its picturesque white-sand beaches, variety of hiking trails and romantic restaurants and resorts. Visitors can head spend the day snorkeling among schools of bright tropical fish or just kick it on the beach. The Māhāʻulepū Heritage Trail is also in Poʻipū. Hikers can trek along limestone to the Makauwahi Cave, home to one the richest fossil sites in Hawaiʻi. Following a full day exploring Poʻipū, travelers can sit down to eat at restaurants spearheaded by industry leaders such as the Eating House 1849 by Roy Yamaguchi and Merriman's Fish House by Peter Merriman.
See all of the winners of our 2023 Readers' Choice Awards in our latest issue, which you can buy here. Better yet, subscribe and get HAWAIʻI Magazine delivered to right to your mailbox.