11 Tips for Your First Trip to Oʻahu
Here's an essential checklist for first-time travelers to the Gathering Place.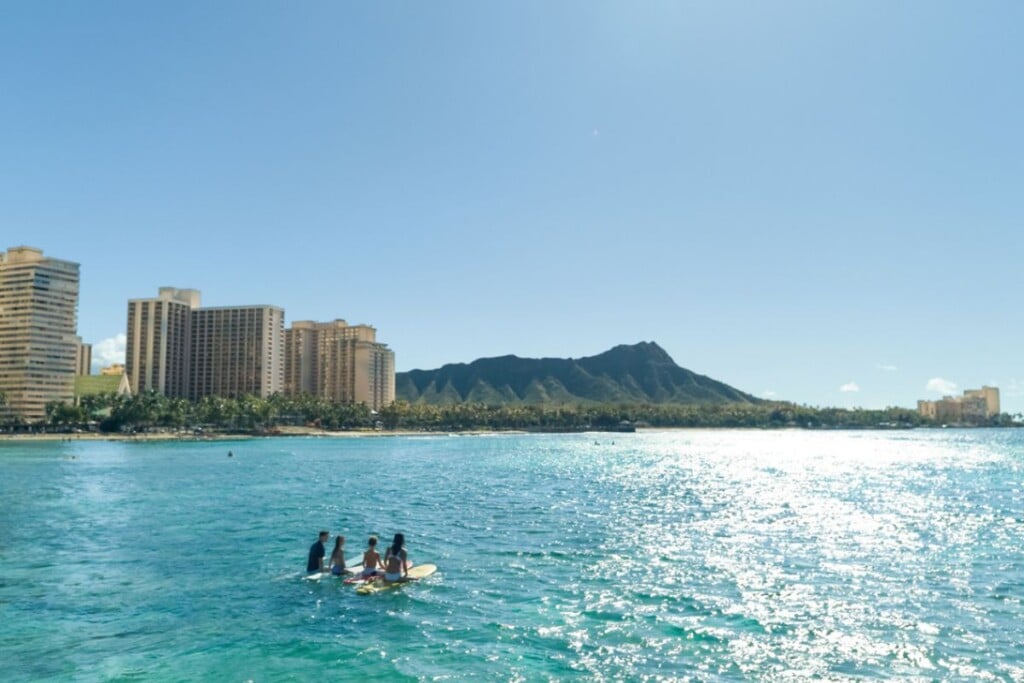 Many first timers to Hawaiʻi set their sights on Oʻahu, thanks to its visitor-friendly activities and locales known around the world. The island is home to the state's capital city, Honolulu, and sites including Waikīkī Beach, Diamond Head (the Hawaiian place name is Lēʻahi), Pearl Harbor and the North Shore. While travelers should certainly include these places on their travel itineraries, there's so much more to see (see tip 4). As you plan your first trip to Oʻahu, here's a checklist of what you need to know. Even frequent travelers to the island may find a helpful tip or two.
1. Oʻahu isn't the same as Honolulu, nor is it "the Big Island"
Honolulu and Waikīkī are some of the most well-known places on the island, but their names are often mistaken as synonyms for Oʻahu. But Honolulu is just a city on Oʻahu. And Waikīkī is a neighborhood within that city. Thanks largely to those two places—the state's lively capital city and its bustling visitor hub—Oʻahu draws throngs of residents and visitors, hence its nickname, the Gathering Place.
Another frequent mix-up, Oʻahu is not known as the Big Island. Oʻahu is the most populated of the Hawaiian Islands, totaling about 1 million residents—over two-thirds of the state's population. However, it's ranked third in size by land mass. Hawaiʻi Island, the southeasternmost island in the archipelago, is the largest in land mass, earning the nickname Big Island.
2. Be a respectful traveler
The Hawaiian Islands are a top travel destination, with Oʻahu being the most visited of them all. However, it's not just a travel hot spot. Oʻahu is home to diverse communities and delicate ecosystems. During your visit, it's imperative to be mindful of the culture, history and environment here. Consider participating in cultural programs now offered at many hotels, or volunteer with a local nonprofit organization to preserve and learn more about Oʻahu's unique environments.
3. If you're traveling by plane …
You'll land at Daniel K. Inouye International Airport (HNL) in Honolulu, the largest airport in the state. From there, it's about a 20-minute drive to Waikīkī and about 30 minutes to Ko Olina.
4. You'll probably want to rent a car to explore areas outside of Waikīkī
With luxury oceanfront resorts, trendy boutique hotels and affordable hostels, most visitors to Oʻahu stay in Waikīkī. While there are plenty of things to see, fun activities and exquisite restaurants, travelers should explore the unique neighborhoods outside of Waikīkī too. So consider renting a car—at least for a day—to explore charming towns like Kaimukī and Mānoa, or to venture to picturesque beaches in Kailua and Waimānalo. Travelers can also hop on the city bus, a cheap and convenient way to tour the island.
5. Research and book reservations in advance
It's well-advised to start booking reservations as soon as possible, whether it's for restaurants and lūʻau or tours and outdoor experiences. It'll require research and planning, but you'll be thankful to have spots secured. You'll find some popular restaurants on Oʻahu only have openings that are weeks away. Snorkel cruises and whale–watching tours have limited numbers of spots, and they also fill up fast.
While planning your trip to Oʻahu, you'll want to research hikes and outdoor attractions. If you're interested in hiking to the summit of Lēʻahi or snorkeling at Hanauma Bay, you need to plan ahead. Out-of-state visitors to Diamond Head State Monument need to make reservations and pay a small fee. The fee system, started in May 2022, is part of an effort to mitigate hiker congestion and protect the island's natural resources. Reservations are also required to visit Hanauma Bay Nature Preserve, and out-of-state visitors are charged a fee.
6. Pack comfortable hiking and walking shoes
The island's verdant forests and coastal wetlands are a world away from Waikīkī's busy streets. Across the island, hikers can embark on a variety of trails that reward them with up-close looks at native ecosystems and marvelous views. From the paved Makapuʻu Point Lighthouse Trail and beautiful but muddy Puʻu ʻŌhiʻa Trail to the uphill climb on the Koko Crater Railway Trail, the island offers dozens of hiking options for all skill levels.
READ MORE: Oʻahu Hikes for Every Type of Hiker
7. Prepare for traffic
Being on an island, you might think that everything is located nearby, but that's not always the case. Haleʻiwa on Oʻahu's North Shore is about a 50-minute drive from Waikīkī. While planning your itinerary, keep in mind that Oʻahu experiences heavy rush hour traffic, which can add an extra 30 minutes of driving time.
8. Everything is expensive in Hawaiʻi
Hotel fees, tour groups, dining out, souvenirs—traveling can be expensive, especially in Hawaiʻi. If you rent a car, know that a gallon of gas in Hawaiʻi is more than a dollar above the national average. Before you visit Oʻahu, it's important to be aware of the high prices here. However, there are ways to travel on a budget. You can try some of Hawaiʻi's most iconic foods like malasadas and musubi for only a few dollars.
Travelers will also want to have a little cash on hand. When driving along Kamehameha Highway on the island's eastern coast, you'll discover quaint farm stands, and on the North Shore you'll find some of the island's famous shrimp trucks, but some only accept cash.
9. Experience a Friday night tradition in Waikīkī
After a two-year hiatus, Waikīkī's spectacular Friday night free fireworks show is back. Presented by Hilton Hawaiian Village Waikīkī Beach Resort, the fireworks show has been lighting up Waikīkī's night sky nearly every week since 1988. It was paused in March 2020 due to the Covid pandemic and relaunched in June 2022. So make it a point to sit on the sand at Waikīkī Beach and watch the dazzling display.
10. Monstrous waves hit the North Shore in winter and calm waters grace it in the summer
The massive swells that pound Oʻahu's North Shore lure the world's top surfers and eager spectators—but only in the winter months. From November to February, waves can reach heights of 30 feet or more. Watching the colossal breaking walls of water is a thrill, even more so when some of the bravest athletes in the world are riding them. Lucky travelers might even catch surf contests like the Triple Crown of Surfing and the Billabong Pipeline Masters.
However, don't expect monstrous waves at Sunset Beach or Waimea Bay in the summer. Between May and September, the waves turn to ripples. But there's still plenty of reasons to visit: With calmer ocean conditions, summer is an ideal time to learn to surf or to explore the colorful coral reefs in the area.
11. Don't buy sunscreen until you arrive
Hawaiʻi is the first state in the U.S. to pass a statewide ban on the sale of sunscreens containing the chemicals oxybenzone and octinoxate. These chemicals are known to harm coral reefs and the fish that rely on them. However, the ban doesn't prevent travelers from bringing in sunscreen with these ingredients. To be sure your sunscreen is reef-safe, wait to purchase a bottle until you arrive on Oʻahu. Doing so will help protect the health of the Islands' coral reefs.