18 Fun Things To Do For Families on Maui
The Valley Isle offers everything from kid-friendly hikes to a world-class aquarium—perfect for families.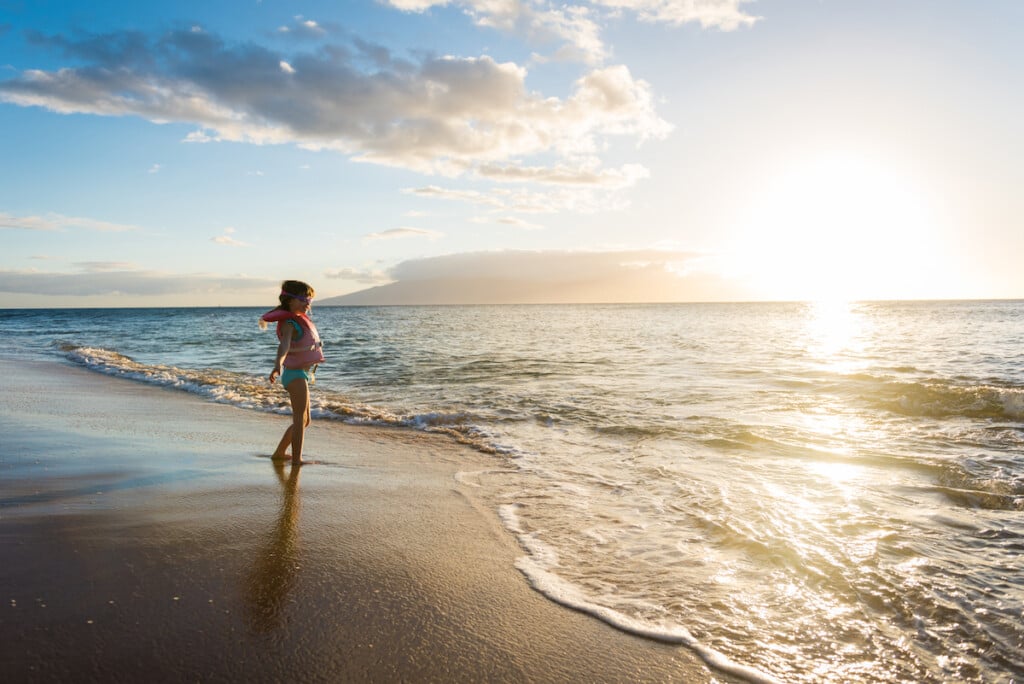 Maui may be the perfect destination for honeymooners—but the Valley Isle has a lot to offer vacationing families, too. There are kid-friendly hikes, beaches great for snorkeling, farms to visit, even fun playgrounds that will give parents a much-needed break. Here are our picks for the best things to do with kids if you're planning a vacation this Spring Break or summer—and none of these involve the hotel pool. (Though we're big fans of pools!)
1. Take a Hike
Maui has dozens of hiking trails great for all ages, from toddlers to teens. The Waihou Spring Trail in Makawao is great for young kids. It's a 1.8-mile loop that follows an old plantation road through a forest of pine, Cyprus and eucalyptus trees planted in the 1920s. The state-run Waihou Spring Forest Reserve was established in 1909 to protect one of the few perennial springs on the west slope of Haleakalā. The loop trail follows a ridgeline, then descends into a gulch. Along the way, you'll walk through native koa and hala pepe, a species found in the Hawaiian dryland forest that sprout green pom-poms of leaves atop its slender trunks. Older kids will enjoy the 4-mile Pīpīwai Trail, located in the Kīpahulu District of Haleakalā National Park on Maui's east side. The scenic hike snakes through a thick bamboo forest and ends at the 400-foot Waimoku Falls.
2. Visit Haleakalā National Park
Towering at 10,023 feet above sea level, Haleakalā is as magnificent as it is massive. The otherworldly landscapes will fascinate any kid, and the spectacular sunrises—or sunsets—are worth the long drive to the visitor center at Haleakalā National Park. (Drive times from Kāʻanapali and Wailea to reach the summit average 2 hours.) The National Park Service now requires a reservation for personal and rental vehicles to view the sunrise from the summit district, so make sure you get your spot secured beforehand. But there are other things to do in this 30,000-acre public park, including hike, bike, camp and spot nēnē (Hawaiian geese). Visit at night for epic stargazing.
3. Tour the Maui Ocean Center
Visitors of all ages will enjoy the immersive experiences and exhibits about Hawaiʻi's vibrant ocean life at the Maui Ocean Center in Māʻalaea. The ocean center is part of Coral World, an international collection of eco-conscious aquariums, and is home to octopuses, seahorses, jellyfish, honu (turtle) and manō (sharks). And throughout the aquarium are comprehensive displays about various facets of Hawaiian culture, including a fascinating exhibit on Kahoʻolawe.
4. Feed and Milk Goats
Feed adorable goats and learn how to make goat milk and cheese on a farm tour of the Surfing Goat Dairy in Upcountry Maui. This dairy farm, on the slopes of Haleakalā, has been producing award-winning Maui gourmet goat cheese for nearly a decade. The 30-minute walking tour, which is offered daily, gives you a glimpse into life on this farm—and you can feed and pet goats, too! But the hourlong Evening Chore & Milking Tour is our pick; your kids can help with farm chores (even if they don't do the ones at home) and milk goats, too.
5. Go Ziplining
View this post on Instagram
Got a daredevil in your family? There are a handful of zipline options on Maui, all of which will take you soaring over the island's lush forests and valleys. Skyline Hawaiʻi has been offering zipline tours and eco-adventures since 2002. It has a package that includes taking in the sunrise atop Halekalā, then zipping over 90-foot drops and canyons that are part of its native forest restoration project. Maui Zipline, the island's newest zipline company, has five side-by-side ziplines, ranging from 300 to 900 feet, centrally located in Waikupū.
6. Pick Strawberries at Kula Country Farms
From February to June—on Wednesdays and Saturdays only—Kula Country Farms runs its Strawberry U-Pick, where you can harvest a basket of strawberries from the farm. (It's $5 a pound.) It's fun to walk the rows of strawberry plants and find the luscious red fruits peeking out from behind the thick leaves. The farm stand is open Mondays through Saturdays and you can buy fresh produce from the farm (and nearby farms), honey, jams and baked goods—great for gifts to bring home. The strawberry lemonade is also a must.
7. Visit Aliʻi Kula Lavender Farm
Walk through the beautiful—and fragrant—Aliʻi Kula Lavender Farm in Upcountry Maui. The 13.5-acre farm grows 45 varieties of lavender, some of which bloom all year round. (Lavender is typically a summer bloomer.) But there are also olive trees, hydrangea, Protea and succulents, too. Snap photos, shop at its gift shop, dine in the café or just relax. All the soaps, lotions, teas and jams are made with the farm's lavender.
8. Go Whale Watching
Whale watching season on Maui runs from November to May, with the peak time for seeing the migrating koholā (humpback whales) between January and March. While you can often see breaching whales from shores, boat tours are the best way to get up-close-and-personal with these magnificent marine mammals. PacWhale Eco-Adventures eco-tours are led by naturalists and support whale conservation and research. Remember to pack binoculars.
9. Hit the Beach
Maui is for beach lovers. There are so many different kinds of beaches on the island, from the golden crescent of Wailea Beach that's lined with resorts to the blustery Hoʻokipa, which is often packed with windsurfers. Families love Baldwin Beach just outside of Pāʻia; it features lifeguards, bathrooms, showers, picnic tables and a covered pavilion. There are protected swimming areas on both ends of the beach, perfect for little ones. Kāʻanapali Beach is one of the island's most popular beaches—and for good reason. This 3-mile-long, white-sand beach boasts crystal-clear water that's great for swimming and surfing. (There are some kiosks on the beach that rent snorkel gear and surfboards.) Lining the beach are some of Maui's best resorts, too, so you have easy access to food and shopping. As with all beaches in Hawaiʻi, check with lifeguards about conditions and when in doubt, don't go out.
10. Walk around Lahaina
The historic town of Lahaina—in particular Front Street—is a bustling area with art galleries, restaurants and other shops, including ones that sell fudge, candy, shave ice and gelato. The Hawaiʻi Wildlife Discovery Center is located here, too, in Whalers Village; it features interactive exhibits on conservation and Hawaiʻi's whaling era, photos and videos features native marine wildlife, and a Kids Zone learn-and-play area. Lahaina Banyan Court is also a fun stop for kids; the park's main feature is a banyan tree planted in 1873 to commemorate the 50th anniversary of Lahaina's first American Protestant mission. It's now the largest banyan tree in the state, and kids love to climb on it.
11. Do Yoga with Goats
What kid wouldn't love doing yoga with baby Nigerian dwarf goats climbing all over them? That's what happens at Maui Goat Yoga, located on the slopes of Haleakalā. The farm offers daily yoga classes with 360-degree views of Haleakalā and the stunning Maui coastline—all while adorable goats nuzzle and snuggle with you. It's fun, it's relaxing and it's one of the most unique experiences you'll have on Maui. Reservations are required, but yoga experience isn't.
12. Take a Surfing Lessons with Maui Surfer Girls
Get your kids surfing with a surf lesson from Maui Surfer Girls. This female-owned surf school offers lessons for everyone—not just girls!—and for all surfing levels. Classes run two hours in the friendly waves at Ukumehame Beach Park, about 15 minutes from Lahaina. It also offers a week-long camp for teen girls—the 2023 camps are all sold out—and includes surf lessons, oceanfront accommodations and healthy meals.
13. Go Snorkeling
Rent snorkel gear and head underwater. Malauka Beach (aka Turtle Beach) near Kīhei has a good snorkeling spot to the left side of the beach; spot butterflyfish, coronetfish, humuhumunukunukuāpuaʻa, sea urchins and other marine life. (There's better snorkeling farther out.) The beach also has showers, restrooms and picnic tables. For more of an adventure, consider a visit to Molokini Crater, a crescent moon-shaped island located about 3 miles of Maui's southwestern coast. The waters surrounding this 18-acre submerged crater is home to more than 250 species of tropical fish, making it a popular spot for snorkeling and scuba diving. Tours leave nearby Māʻalaea Harbor and Lahaina daily. Early mornings are best.
14. Hit a Playground
Parents love playgrounds just as much as kids do—especially if there are shady trees and benches. Kalakupua Playground in Haʻikū is a local favorite, with fun equipment, a huge grassy park, toddler swings, slides, a parkour area, covered picnic areas and tons of parking. (It's located at the Fourth Marine Division Memorial Park.) South Maui Community Park in Kīhei is another fave with a variety of climbing, jumping and sliding equipment. The best part? It's covered! Wailuku Heights Park is a neighborhood park with a great playground, too; it's often uncrowded and the views are amazing.
15. Eat Sweet Treats
There are no shortage of sweet treats on Maui. Kids will love guri-guri, a frozen dessert that has a creamy texture similar to sherbet. Find this only at Tasaka Guri Guri at the Maui Mall; it serves only two flavors, strawberry and pineapple, and both are delicious. And you can't visit the Islands without getting shave ice. Ululani's Hawaiian Shave Ice, which has multiple locations on Maui, takes it to a new level. Its ultra-fine ice is topped with its signature syrups and finished with creative toppings. At Ululani's Hawaiian Shave Ice, there are more than 50 flavors and a variety of premium add-ons.
16. Walk around ʻĪao Valley State Park
Situated above the bustling town of Wailuku, 'Īao Valley is a serene and peaceful park. In the lush, stream-cut valley, kid-friendly walking paths are lined with native flora as well as informational signs about the cultural significance of the area. What draws visitors is Kūkaemoku, a 1,200-foot rock formation also known as the ʻĪao Needle. (Update: ʻĪao Valley State Monument is closed through April 15, 2023.)
17. Drive the Road to Hāna
If you've got a few days on Maui—and if you've never been to Hāna—driving the 52-mile Hāna Highway is a must. There are 620 curves and 59 bridges, so if your kids are prone to motion sickness, have them sit up front—or (safely) stop often to gawk at the waterfalls and coastal views along the way. Stop for banana bread at the handful of roadside stands along the way, and lounge at Waiʻānapanapa State Park (advanced reservations required), a beautiful black sand beach.
18. Experience a Lūʻau
View this post on Instagram
Many lūʻau shows in Hawaiʻi are striving to provide a more authentic experience, and Old Lahaina Lūʻau has been doing this since it started in 1986. It focuses on the history of Hawaiʻi as told through hula and mele (music) on the beach during sunset in Lahaina. The menu is stacked with traditional and modern fare, from lūʻau leaf-wrapped lau lau and kālua pig cooked in a traditional imu (underground oven) to ʻahi poke and kalo (taro) hummus. It's a show—and dinner—your entire family will enjoy.