The 5 Best Towns in Hawaiʻi in 2022
Here's a ranked list of the best towns to visit, according to our 2022 Readers' Choice Awards.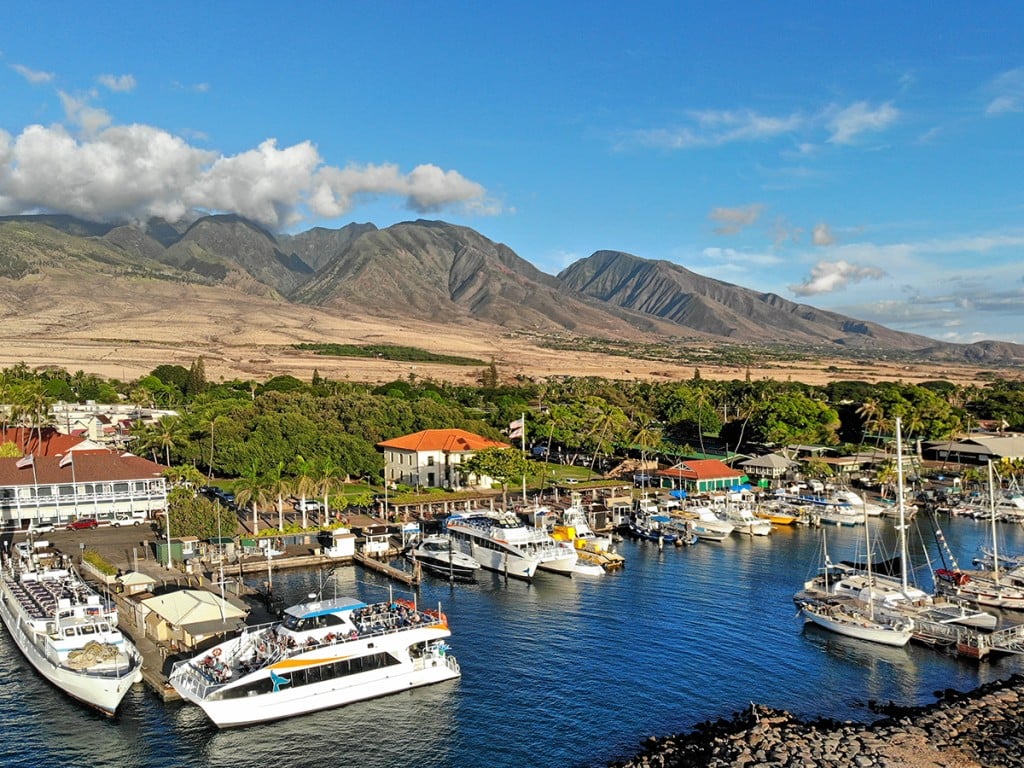 Lahaina once again tops the list of Best Towns in Hawaiʻi, as voted by our readers. And we're not surprised. This oceanfront town on Maui has everything you could want—restaurants, shops, ocean views and, of course, that laid-back vacay vibe. Here are the Top 5 towns, voted on by HAWAIʻI Magazine readers, that help define the Islands.
1. Lahaina, Maui
It comes as no surprise that West Maui's most bustling district, Lahaina, is No. 1 on our list—again. This seaside town boasts eclectic shops and art galleries, and popular restaurants like Star Noodle, Down the Hatch and the award-winning Lahaina Grill. It's also a great place to spot migrating Pacific humpback whales in the winter months. If you're looking for something unconventional, check out Punakea Palms, Hawaiʻi's only coconut farm, which offers educational tours of the property and is located on the outskirts of Lahaina.
2. Honolulu, Oʻahu
Honolulu is the urban hub of Oʻahu—and the state's capital city. This is where the vast majority of Hawaiʻi residents—about 800,000 of the 1.4 million total population—live, work and play. And it's where most first-time visitors venture. Why? Because there's just so much to do, from exploring the restaurants and art museums in Downtown Honolulu to spending the day in beachy Waikīkī. While this town boasts a diversity of restaurants, bars, art galleries and shops, it's also minutes away from some of the island's most popular beaches and hiking trails. World-famous Waikikī Beach, Hanauma Bay and Ala Moana Beach Park are all in Honolulu, as are Mānoa Falls Trail, Diamond Head State Monument and Makapuʻu Lighthouse Trail.
3. Kailua-Kona, Hawaiʻi Island
This sunny stretch along the western side of Hawaiʻi Island is a vacationer's dream, with black-sand beaches, luxury resorts, coffee farms, historic landmarks and oceanfront eateries. You can even tour the largest abalone farm in the U.S., a monk seal hospital and an octopus operation at an aquaculture facility at Keāhole Point. Snorkel or kayak in the pristine Kealakekua Bay, where Capt. James Cook first set food on the island in 1778 (and where he was eventually killed). The 315-acre bay is the island's largest sheltered natural bay and a protected marine-life conservation area, with dozens of Hawaiian reef fish, sea turtles and spinner dolphins.
4. Hanalei, Kauaʻi
Hanalei is the jewel of Kauaʻi's North Shore, with its dreamy beaches and beachy vibe. Kūhiō Highway, which runs through the sleepy town, is lined with charming coffee shops, beloved restaurants and cute boutiques. The beaches here, though, are the stars: Mākua Beach (aka Tunnels Beach) with its stellar snorkeling, Kēʻē Beach with its views of the Nāpali and, of course, the magical Hanalei Bay with its historic pier that will undoubtedly make your Instagram feed.
5. Hāna, Maui
Discover old Hawaiʻi in Hāna on Maui—the reward at the end of the twisting 52-mile Road to Hāna, with 620 curves and 59 bridges, many of them one-lane and harrowing. This peaceful town is truly an escape. Stay at the historic and luxurious Hāna-Maui Resort, shop for souvenirs at Hasegawa General Store and Hāna Ranch Store, or relax at Hāmoa Beach, cited by author James Michener as the most beautiful beach in the Pacific. The drive itself is also an experience; Hāna Highway (HI-360) is dotted with waterfalls and dramatic seascapes.
See all of the winners of our 2022 Readers' Choice Awards in our latest issue, which you can buy here. Better yet, subscribe and get HAWAIʻI Magazine delivered to right to your mailbox.