No Active Volcano? No Problem!
Both Mauna Loa and Kīlauea stopped erupting, but that doesn't mean you should cancel your trip to Hawaiʻi Island.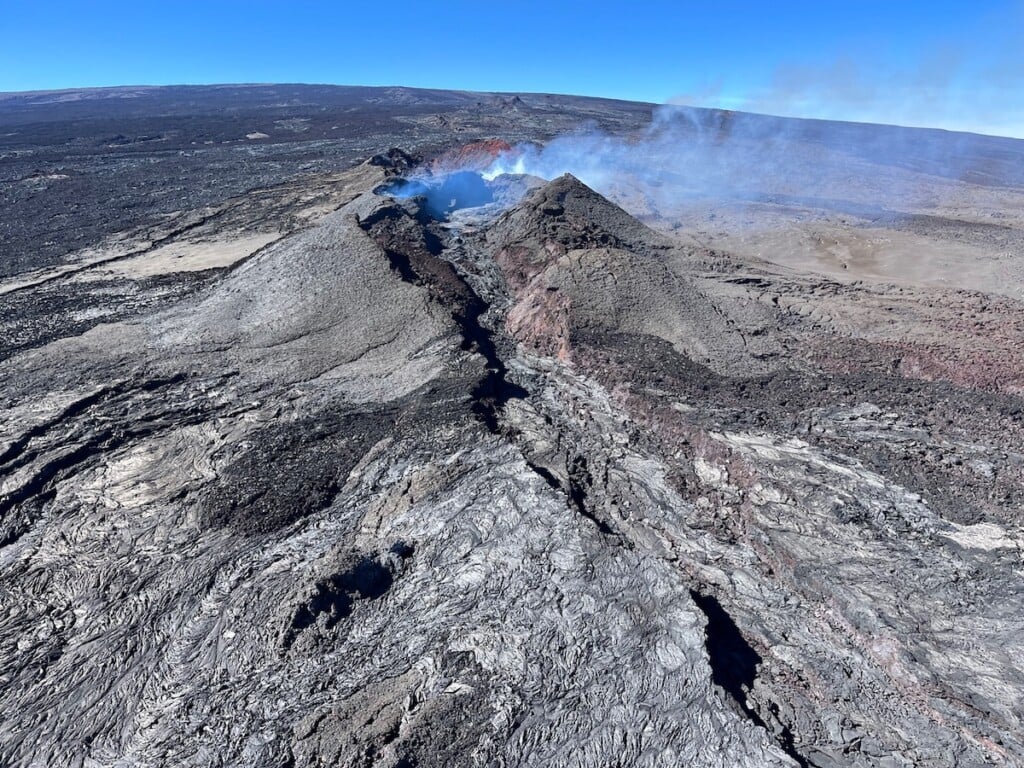 On Tuesday scientists announced that Hawaiʻi's two active volcanoes—Mauna Loa and Kīlauea on Hawaiʻi Island—have stopped erupting.
Kīlauea has long been a draw on Hawaiʻi Island and began erupting again on September 2021, with a crater lake visible from inside Hawaiʻi Volcanoes National Park. But it was the massive Mauna Loa, the world's largest active volcano that began erupting on Nov. 27 after 38 years, that became the island's hottest (literally!) attraction. Thousands flocked to the Daniel K. Inouye Highway (aka Saddle Road) to see the lava flow from fissure 3 move down the flank of the volcano toward the highway. If you were lucky, you could see both Kīlauea and Mauna Loa from a vantage point in Hawaiʻi Volcanoes National Park.
Yes, you saw it right — alert levels for BOTH Mauna Loa and Kīlauea were lowered this morning. Neither volcano is erupting right now, and gas emissions are at near-background levels, although HVO volcanologists remain vigilant for changes that might indicate renewed activity. pic.twitter.com/3m4SfZY3nw

— USGS Volcanoes🌋 (@USGSVolcanoes) December 13, 2022
While Mauna Loa isn't expected to resume erupting anytime soon, scientists said the lava may incandescent as it cools.
We know, it's not the same.
But don't let this news spoil your plans of visiting the Big Island.
The Island of Hawaiʻi is often referred to as the Big Island—and for good reason. With an area of 4,028 square miles, it's nearly twice the size as all of the other Hawaiian Islands combined with only 13% of the state's population. You can experience all but four of the world's different climate zones here—you can even see snow atop Mauna Kea in the winter.
The island boasts volcanic landscapes, black-sand beaches and lush valleys with waterfalls. And though the volcanoes aren't actively erupting right now, you can still walk or hike around Hawaiʻi Volcanoes National Park and explore a lava tube, steam vents and other volcanic environments. One of our favorite hikes here is the Kīlauea Iki Trail.
If you like waterfalls, you'll enjoy the trek to ʻAkaka Falls State Park, just north of Hilo. An easy trail takes you to two waterfalls, the most spectacular of which is the 442-foot ʻAkaka Falls.
While in Hilo, grab lunch at the beloved Kawamoto Store and pick up hand-crafted mochi at Two Ladies Kitchen—both longtime local favorites. Big Island Candies and Mauna Loa Macadamia Nuts have their headquarters in Hilo, and you can visit and learn more about both companies. And there are several farms you can tour, including O.K. Farms (which has a unique view of Waiānuenue, aka Rainbow Falls, on its property).
If you're traveling with kids, check out Panaʻewa Rainforest Zoo and Gardens, which is home to a famous white Bengal tiger and a skateboarding cockatoo. Plus, it has a great play area and it's free!
If you're heading to Kailua-Kona, you can tour one of many Kona coffee farms, from the historic Greenwell Farms to the smaller Hala Tree Coffee. Stroll the artsy town of Holualoa, where you can learn how to build your own ʻukulele or tour an eco-friendly coffee farm.
We enjoyed baking traditional Portuguese sweetbread in a lava-rock forno at the Kona Historical Society. (And if you don't have time to bake the bread, you can visit the roadside stand and buy a loaf or two.)
If you're interested in marine science—or just want to do something unique to Hawaiʻi Island—you can book tours of the various tech-based companies at the Hawaiʻi Ocean Science & Technology Park at Keāhole Point. There's a cool octopus farm you can visit, an aquarium where you can hold a seahorse, and a monk seal hospital you can tour.
About 12 miles south of Kailua-Kona is Kealakekua Bay, a 315-acre sheltered natural bay that's great for kayaking and snorkeling. There are also fun thrift shops in the nearby town that's worth visiting, too, and the historic Manago Hotel, which boasts one of the oldest restaurants in the state. (Get the pork chops!)
And let's not forget Waimea, a charming rural town on the north end of Hawaiʻi Island known for its rolling hills and paniolo (cowboy) culture. It's got a great farmers market and must-try eateries including a Japanese bakery that lures folks from all over the island.
See? You don't need an active volcano!